Rustam, 20, is from Afghanistan and lives in Moria, an overcrowded refugee camp on the Greek island of Lesbos. Greece is in the grip of its worst winter for more than a decade. Conditions are so terrible in Moria that Rustam moved into a squat a mile down the road.
It is an abandoned, derelict warehouse, with a few cardboard boxes, a table and some wooden benches for a makeshift lounge. "No man is illegal" is scrawled on the front of the building.
Rustam has been living in the warehouse with several other men – some from Afghanistan, some Syrian and a lone Rohingya man from Myanmar – on and off for around three months.
There are a couple of children living with their fathers in the cold, dank building. But Rustam says it is better here than in the camp and every time he goes back to Moria, he is forced to return.
Around 3,000 people are living in Moria, a former military base located near the town of Mytilene. Over the last few months, temperatures have plummeted below zero and snow has blanketed the tents in the camp. Although the icy weather has eased slightly, it is still below freezing at night.
At least four people have died in Moria in the past week, including a 20-year-old man from Pakistan, a 22-year-old Egyptian and a Syrian man aged 46.
Greek media reported they had died from inhaling fumes from a heater while trying to keep warm inside their tents, but this is unconfirmed. Nobody knows how the fourth man died, but rumours are circulating around the camp – about police beatings and hypothermia.
We are suffering here more than in Syria
Mohamed – not his real name – is a Syrian refugee from Aleppo and has been living in the camp for four months with his wife.
Walking up the road from Moria, he says the conditions inside are dire and he wants to be allowed to leave the island for the Greek capital Athens, where he can try to earn money to move on and live a normal life.
News has reached the camp that Donald Trump, the US president, has banned entry to America from seven Muslim-majority countries, one of which is Syria.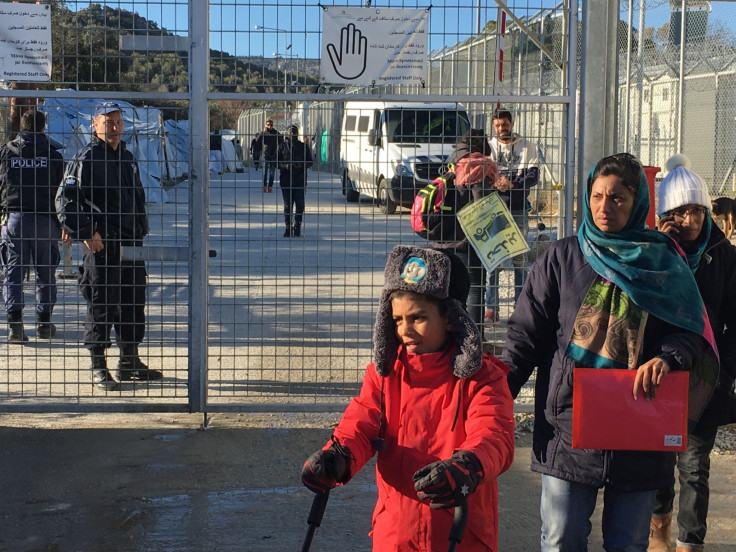 "We have no dignity – this man has no humanity," Mohamed says, when asked about the US travel ban. "So the best thing is just to put fuel on the camp and burn us. They will forget about us in one month. At least we will be comfortable because we will be finished."
He says his wife is suffering from kidney problems, but the doctor has only been able to give her paracetamol. "What should we do? What should we say? Just show us what to do. We are suffering here more than in Syria. Even if you sent us back to our countries, at least we would know we would die."
When he first arrived at the camp, Mohamed says he spent five days waiting outside at the gates to register. "They [the authorities] spent hours asking me where I had come from and why, then I was given a red card. If I got a green card, I could go to Athens," he said. "Young men can walk or find work and earn money to buy food, just to live a normal life at least. But I cannot."
We are not terrorists – I am just a man
Like thousands of others on Lesbos, Rustam is effectively trapped on the island with nowhere to go. Young and angry, he laments the treatment of migrants seeking better lives and condemns Trump's travel ban on people from Muslim-majority countries.
He says it speaks volumes about the perception of Muslims and refugees. Although Afghanistan is not on Trump's list of banned countries, Rustam wants to know why people are being turned away from the United States on what he says is the basis of their religion.
"The president of America is bad for refugees – dangerous for Muslim people," he observes. "We are not terrorists. One person may be a problem, then they think we are all a problem. It's not good. It makes me very angry."
"Look," Rustam says, pointing at his chest. "I am just a man, why do they think I am a problem? Why?"
Aid struggles to reach Moria camp
When we reach Moria, we are immediately turned away. Since the four men died, security has been tightened and no reporters – and no cameras – are being allowed in.
Surrounded by walls and barbed wire, it looks more like an army facility than a temporary home for refugees. In a tent serving as a cafe and small shop outside, the police and security staff watch over us as we speak to refugees coming to and from the camp.
Driving along the perimeter of the camp, the graffiti betrays the mindset of the people living inside. "Movement" and "freedom" are painted on the side of the tents and the walls. Once again, the police tell us to move on when they see us taking photographs.
Even charitable organisations delivering aid have been prevented from entering the camp in recent days.
Muntada Aid, which is working alongside an NGO called Hope and Aid Direct, have a warehouse stacked full of thick coats, trousers, winter boots, wool hats, scarves and more, just a couple of miles up the road from the camp.
The trucks, which left the UK over a week ago, are loaded and ready to deliver the badly-needed essentials – but the aid workers cannot get into the camp to distribute it. Kabir Miah, the overseas project manager at Muntada Aid, warns the refugees are increasingly at risk of dying in the cold without the aid.
"We hear stories of people freezing to death in Moria camp and more people are going to die," he says.
"These people urgently need warm clothing, blankets, if these people had adequate clothing perhaps they wouldn't have died. So we have a warehouse full of stuff just down the road and they're not allowing us to deliver it. Ultimately it will get delivered, but not right now – when it is needed the most.
"Why are they preventing aid agencies like us from supplying people with warm clothing? We have got sleeping bags, thermal clothing, socks – this is essential, right now. But the authorities are not allowing us to deliver it. Perhaps the conditions are so bad they don't want us to see it."