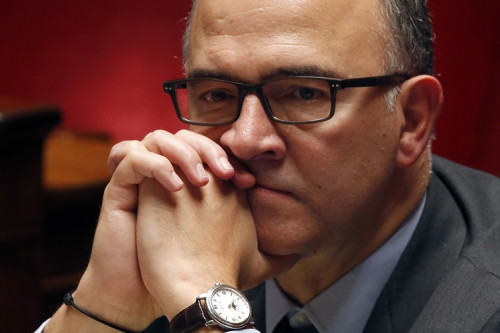 France wants to "accelerate and amplify" its economic reforms according to finance minister Pierre Moscovici.
Speaking at the World Economic Forum in Davos, Switzerland, Moscovici said he is committed to making market reforms that will put France back in the lead among the world's economies.
"We made strong reforms in the last 20 months. We reformed the pensions system we reformed the labour market, we are reforming professional training, we are reducing the costs of our deficits," he told Bloomberg Television.
President Francois Hollande has made a commitment "to boost investment, to boost growth and to boost job creation" added Muscovici.
"If you look at American investments in Europe - what is the first destination of those investments? France. What is also the lowest interest rates for public debt? France. We are a very solid, a very credible and a very attractive country," said the finance minister.
However, he said more work had to be done to make France more competitive.
"We want to accelerate, we want to amplify and we want to go further. France needs to be in the lead. France is the second largest economy in Europe and is the second largest economy in the eurozone. We want our growth to be more creative and bigger," he said.
These reforms had changed the perception of France among international investors after Hollande came to power as they noticed that his reforms were working.
"We are establishing huge economic and social contracts in order for this country to be more competitive. There is a change in the look of our partners towards France. They say you are doing things and you need to do more but you are on the right track."
Muscovici also said he was "dedicated to Europe" and was committed to economic results that would "help fight the National Front" in France.
On a European level, Muscovici said progress had been made compared to a year prior as the "eurozone gained stability" as Spain and Ireland were returning to the markets.
"What is the hope of people when they look towards Europe? It is growth, not austerity and that is what we are fighting for."