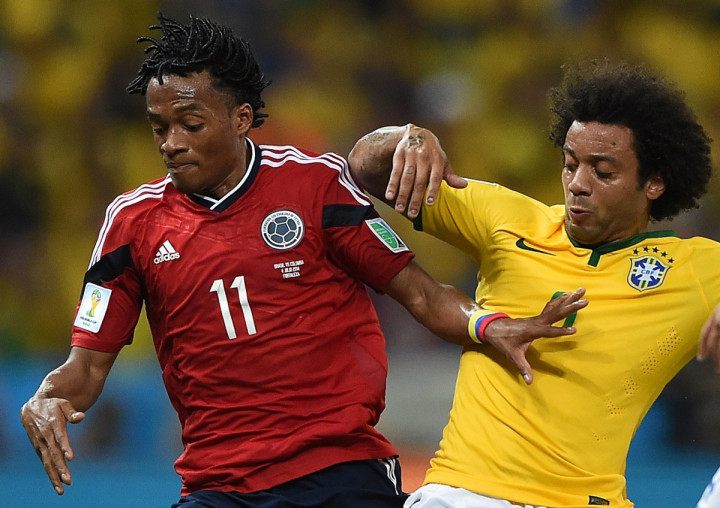 Barcelona have not asked Juan Cuadrado to go on strike in order to force his move away from Fiorentina, according to the Colombian's agent.
According to reports in Spain, Manchester United are readying a £30m bid for the 26-year-old but the Catalan giants remain favourites to secure his signature as the club continue their rebuilding process under new manager Luis Enrique.
Fiorentina recently announced they would only consider offers in the region of €50m (£39.5m) for Cuadrado, prompting speculation that Barcelona have urged the player to refuse to return to training following his summer break in order to force the move.
But the winger's agent Alessandro Lucci has insisted there have been no underhand tactics from the La Liga giants or from any other club.
"It is part of my way of being that I don't talk about my clients, but seeing the media interest has been so big that it could turn into a tsunami, I feel obliged to intervene and explain how things are, and I hope that this will be my first and last dealing with the media on the subject," Lucci told Tutto Mercato Web.
"With Barcelona, as is the case with other clubs, I have been in direct contact for a while now. They have expressed their interest, but as of yet there have not been any actual negotiations, be it with Barcelona or with any other club.
"The Catalan club are represented by serious, professional people who, in the conversations we have had, have never – and I underline 'never'- expressed that they would like to use such strategies. And then there is something else I would like to clarify.
"With everyone at Fiorentina, my personal and professional relationship, and that of Cuadrado, is extremely good. Should there ever be, in the near future, any major negotiations, they will be analysed and, if necessary, guided to a conclusion in a way that would satisfy all the interested parties."
Cuadrado enhanced his growing reputation for Colombia at the World Cup alongside fellow stand-out performers David Ospina and James Rodriguez. The latter two have already sealed moves to major European clubs – Arsenal and Real Madrid respectively – and while Cuadrado has been tipped to follow suit, he recently admitted he was unsure where he will be playing next season.
"I don't know yet what will happen," he said earlier this month. "At this moment I haven't received any concrete offers from any club.
"You read a lot of things but at the moment there is nothing concrete. I'm not in a hurry to decide my future – we'll see what happens.
"Wherever I play I will try to give my best in every match."