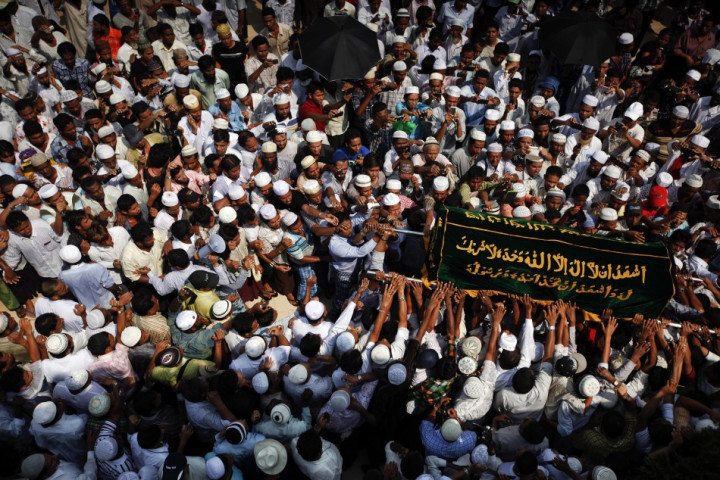 A fire in an Islamic school in Myanmar's former capital of Yangon has killed 13 boys, just days after violence against Muslims erupted across parts of the country.
Authorities said the fire in the school, which has not been named, was caused by faulty electronic equipment, with the fumes suffocating the victims in a dormitory.
"The fire, caused by the overheating of the transformer placed under the staircase, spread, trapping the boys sleeping in the attic. As a result, 13 12-year-old boys died of suffocation after inhaling smoke," a duty fire officer said.
As thousands of Muslims attended the funerals of the victims, suspicions were raised that the fire was not an accident. It came within days of sectarian clashes between Buddhists and Muslims in the central city of Meikhtila.
Groups of Buddhists, some led by monks, attacked a Muslim neighbourhood after a row in a Muslim-owned gold shop. At least 40 people died in the violence that followed and 12,000 were displaced from their homes. The unrest spread to several towns in the Bago region, about 160km north of Yangon.
"We have heard from Rangoon [Yangon] that there are suspicions in the Muslim community about the cause of the fire, but have no concrete information about the cause," Mark Farmaner, director of Burma Campaign UK, told the IBTimes UK.
Mya Aye, a Muslim member of the 88 Generation Students' pro-democracy group, told Reuters: "We are worried and sad because innocent children died."
Neighbours and witnesses in the Botataung area, where the school is located, said the doors of the dormitory may have been locked to protect children after the recent clashes.
As revealed by IBTimes UK, anti-Muslim clashes might have been triggered by a controversial monk who has led numerous vocal campaigns against Muslims.
Saydaw Wirathu called in a video that emerged on YouTube for a national boycott of Muslim businesses in Myanmar.
The monk, who was arrested in 2003 for distributing anti-Muslim literature, urges Burmese people in the video: "Join the 969 Buddhist nationalist campaign.
"Do business or interact with only our kind - same race and same faith."