Sectarian clashes have erupted in the central Myanmar city of Meikhtila, where mobs of Buddhists, some led by monks, have attacked a Muslim neighbourhood leaving at least 20 people dead.
Myanmar's President Thein Sein has declared a state of emergency and the government has deployed between 600 and 700 police officers to try to quell the situation. Local reports say that at least five mosques have been burned down since violence started.
Journalists are fearing for their lives after sword-wielding Buddhist monks forced them to hand over the memory cards in their cameras.
The tensions were triggered by a row in a Muslim gold shop, but there are two different accounts of what happened. The first account is that the shopkeeper attacked Buddhist customers and that sparked the violence.
The second report is that the shopkeeper was selling fake gold and the customers refused to buy it, prompting the furious reaction of the Muslim man.
But independently of the accounts, the question is why a row in a gold shop triggered riots on such a large scale. Religious violence in the Western Rakhine state last year shook the fragile steps taken by progressive president Sein, who has initiated a path of reforms after five decades of authoritarian military rule.
"Even before violence against Rohingyas, there was an organised anti-Muslim sentiment encouraged by some organisations," Burma Campaign UK's director Mark Farmaner told IBTimes UK.
"Buddhist monasteries have been distributing leaflets that were critical of Muslims on various things, and that has been going on for months."
Religious and political leaders in Burma, who are very respected and influential, are sensitive over these issues but "afraid to talk directly for fear it could lead to more tension", says Farmaner.
"They talk about it in general and do not address the anti-Muslim prejudices," he argues. "The space they left is filled by anti-Muslim organisations."
He maintains there were individual reports, around 10, of monasteries around Rangoon and in the Rakhine state distributing anti-Muslim leaflets.
The Burmese Bin Laden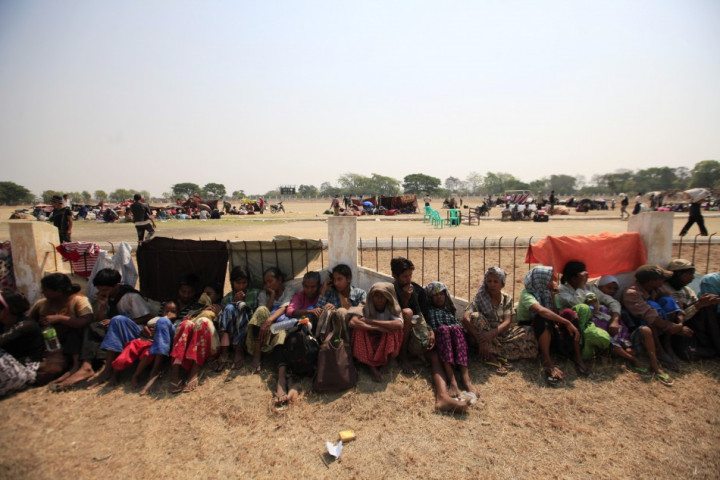 The shadow of controversial monk Wirathu, who has led numerous vocal campaigns against Muslims in Burma, looms large over the sectarian violence in Meikhtila.
Wirathu played an active role in stirring tensions in a Rangoon suburb in February, by spreading unfounded rumours that a local school was being developed into a mosque, according to the Democratic voice of Burma. An angry mob of about 300 Buddhists assaulted the school and other local businesses in Rangoon.
The monk, who describes himself as 'the Burmese Bin Laden' said that his militancy "is vital to counter aggressive expansion by Muslims".
He was arrested in 2003 for distributing anti-Muslim leaflets and has often stirred controversy over his Islamophobic activities, which include a call for the Rhohingya and "kalar", a pejorative term for Muslims of South Asian descent, to be expelled from Myanmar.
He has also been implicated in religious clashes in Mandalay, where a dozen people died, in several local reports.
Sectarian tension between Rakhine state's 800,000 Rohingya and their Arakanese Buddhist neighbours exploded in June 2012, after allegations that a gang of Rohingya men had raped an Arakanese woman.
The Muslims were lynched in response, sparking days of rioting. More than 200 people died and 100,000 Muslim were left homeless, if not displaced in concentration camps.
"Violence never stopped in the Rakhine state, it occurs every single day with harassment of local security forces," says Farmaner. "People are worried that it could turn into large-scale violence again.
"As FCO minister Alistair Burt said, we need to address the cause of hostility. Authorities talk of these clashes as isolated incidents, missing the big picture."
READ: Burmese Bin Laden Monk Saydaw Wirathu Calling for Boycott of Muslim Businesses [VIDEO]