An Irish-born firefighter has become the 124th responder to die as a result of the toxic fumes inhaled from the collapse of the Twin Towers on 9/11.
Brian J Masterson was among the hundreds of New York firefighters who worked tirelessly at the scene of a terrorist attack which struck the World Trade Centre in 2001.
He died aged 61 on Sunday (22 January) after contracting esophageal cancer.
Over 3,000 people died on that day of September 11, but Masterson's death is a reminder of the lingering effect of the attack, which shocked the US and the world.
Masterson, a father-of-three, was buried on Friday in his adoptive home of Walden, New York, after emigrating from the close-knit village of Lissavaddy in County Longford, Ireland.
Claudia Thomas, founder of the 9/11 Rescue Workers and Friends Forum Group, is said to have spoken movingly at Masterson's funeral.
"9/11 [New York Fire Department] Responder Brian Masterson was the Captain of his soul and of the hearts of those who knew him," she said, reported the Mirror.
"A member of Engine 93 Ladder 45 Battalion 13 in Washington Heights, and later Marine 9 (Fireboat II).
"His life was dedicated to the job he loved and started out in back in 1990 and survived several life-threatening emergencies.
"But such is the metal of one like Brian, who passed January 22, 2017, from related cancer, age 61. 'Fair winds and following seas' brother!"
James Slevin, president of the Unified Fire Authority, said 124 firefighters have now died in the 15 years since the attacks.
He said: "As a result of the 9/11 attacks on our nation, our New York City Firefighters have been getting sick and dying in high numbers due to cancers and other diseases caused by breathing the toxic air at the World Trade Center.
"The deaths of Ret. FF Brian Masterson and FF Kevin Rooney are unfortunate reminders that New York City Firefighters and other first responders continue to suffer from the aftermaths of 9/11.
"More than 15 years after the tragic event, 124 firefighters and fire officers have passed away due to 9/11-related illnesses."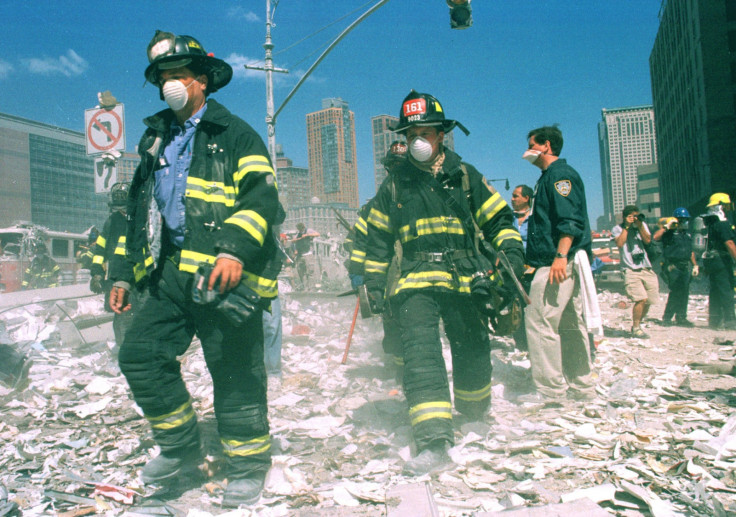 Aside from first responders who have felt the on-going devastation of 9/11, more than 1,000 civilians who were in the vicinity of the blast have been diagnosed with cancer since dust smothered the streets of New York.
Asbestos, fibreglass, mercury and benzene were all believed to be in the debris.
The Natural Resources Defense Council estimated that over 300 tons of asbestos fibres was used in constructing the World Trade Center, reported City Lab.