The first confirmed British person known to have contracted the deadly Ebola virus is now being flown back to the UK from Sierra Leone, the Department for Health (DfH) has confirmed.
The man, believed to be a medical worker but whose identity has not been revealed, is on an RAF plane which departed from Freetown, Sierra Leone's capital today. It is thought he will be placed inside a special bubble aboard the specially equipped C17 RAF called an air transport isolator.
Following the eight-hour flight the Ebola victim – who according to a Department of Health spokesperson is "not currently seriously unwell" – is expected to be taken from RAF Northolt, near Heathrow, to London's Royal Free Hospital.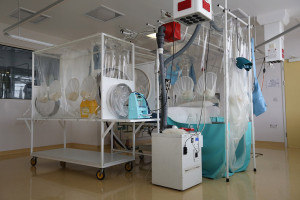 The Royal Free has Britain's only "high level isolation unit" in its High Secure Infectious Disease department.
Consisting of two beds each inside special ventilation tents, the unit has been ready for weeks since the Ebola virus began to spread across West Africa. It is thought the man is being transferred to ease pressure on Sierra Leone's ill-equipped health service.
The news comes as the Wellcome Trust announces a new multi-million pound research initiative into the virus which is currently untreatable and has a mortality rate of up to 90%. The World Health Organisation now says it will allow the use of experimental drugs and vaccines.
According to the WHO there have now been 2,615 confirmed cases and 1,427 deaths since the Ebola outbreak began in March. The organisation believes the true figures may be far higher because many people do not go to hospital when infected, and are often buried without officials being informed.
The initial symptoms of Ebola include headache, fever, sore throat, muscle weakness and muscle pain.
Britain's deputy chief medical officer for England, Professor John Watson, says the risk of the disease spreading in the UK is very low and the country is well-prepared to cope.
"We have robust, well-developed and well-tested NHS systems for managing unusual infectious diseases when they arise," he said, "supported by a wide range of experts."