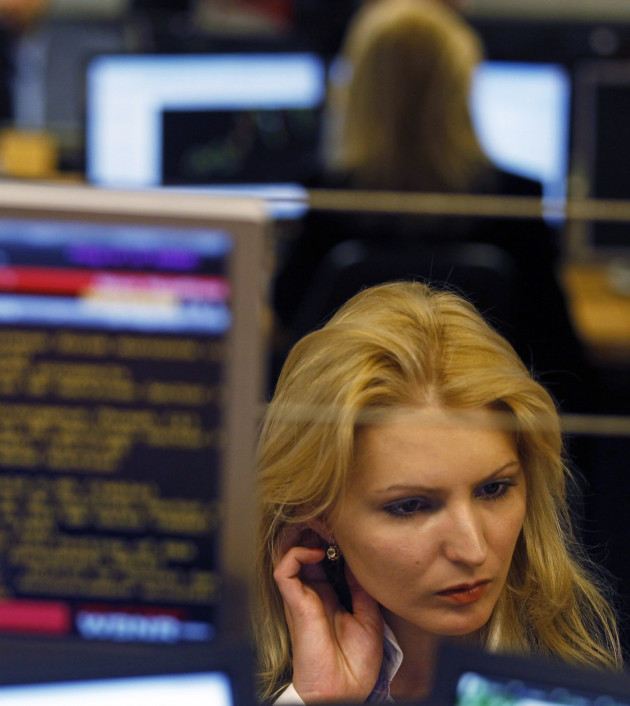 European shares surged and Britain's benchmark FTSE 100 passed 6,000 for the first time in 18 months as global markets rallied following a last-minute tax deal in Washington and stronger-than-expected economic data from China.
UK stocks surged more than 2.2 percent on the first full trading day of the year Wednesday as investors used last night's agreement by US lawmakers in Washington to build on a six week rally that's added more than 400 points to the bellwether FTSE 100 index, taking it to 6,027.37 points by the close of trading in London, its highest level since August of 2011. Broader European shares were also active, rising just under 2 percent to a 22-month high of 1,156.2.
US stocks also rose firmly at the start of trading on Wall Street and carried on rising into the close with the Dow Jones Industrial Average gaining more than 300 points to finish the session at 13,412.55. The broader S&P 500 posted a 36.2 point lift taking it 2.54 percent higher to 1462.42 while the Nasdaq recorded a 3.09 percent gain, taking the tech-heavy index to 3,112.26 by the end of the trading day.
Much of the bullish tone was linked directly to the last minute deal in the US House of Representatives that approved an earlier Senate bill which would lift tax rates for wealthier Americans while making permanent tax cuts first crafted during the first administration of George W. Bush has avoided, for the moment, the automatic triggering of $110bn in spending cuts in the still-fragile US economy.
Those cuts - known to lawmakers as "sequestering" - have been delayed for at least two months to allow the next Congress to debate how they will be managed or changed. However, with the US now in technical breach of its legally mandated debt ceiling, the outcome of those negotiations will likely have more influence on US economic growth than the temporary deal which has lifted markets all over the world.
Economic data from China and, to a lesser extent, Britain, added fuel to the rally that also lifted Brent crude prices past a four-week high of $112 per barrel.
Government figures from China showed manufacturing activity accelerated last month, taking the country's official Purchasing Managers' Index to 50.6, a seven-month high and its third consecutive month of expansion. Private data published last week showed the sector expanding at its fastest pace in nearly two years this month. HSBC's well-watched Purchasing Managers' Index of factory activity in the world's second-largest economy was measured at 51.5 - a full point higher than that November reading and firmly ahead of the 50 threshold that marks the separation between growth and contraction.
Gold prices also rallied 1 percent to a two-week high of $1,691.4 per ounce while sliver gained 3.6 percent to trade at $31.50.
In the UK, manufacturing data shocked analysts by expanding at the fastest pace in at least 15 months, according to private data from Markit Economics. A gauge of potential output also rose to a 20-month high of 54, Markit said, from a November reading of 50.5. Collectively the figures suggest Britain may narrowly avoid a so-called "triple dip" recession in the fourth quarter of 2012.
That view was also partially bolstered by solid holiday sales figures from one of Britain's flagship retailers. The employee-owned John Lewis Partnership said sales in the five weeks ending on 29 December fell just shy of £690m, a 15 percent increase from last year. Online sales, the group said, rose 44 percent.