Arrow's spinoff show The Flash premieres on Tuesday, October 8 on the CW
The pilot episode is titled City Of Heroes, and the episode will show us the transformation of Barry Allen (Grant Gustin) from a CSI investigator to The Flash.
The premiere episode synopsis reads:
The Fastest Man Alive Is Born — Barry Allen (Grant Gustin) was just 11 years old when his mother was killed in a bizarre and terrifying incident and his father (John Wesley Shipp) was falsely convicted of the murder. With his life changed forever by the tragedy, Barry was taken in and raised by Detective Joe West (Jesse L. Martin), the father of Barry's best friend, Iris (Candice Patton). Now, Barry has become a brilliant, driven and endearingly geeky CSI investigator, whose determination to uncover the truth about his mother's strange death leads him to follow up on every unexplained urban legend and scientific advancement that comes along. Barry's latest obsession is a cutting edge particle accelerator, created by visionary physicist Harrison Wells (Tom Cavanagh) and his S.T.A.R. Labs team members, Caitlin Snow (Danielle Panabaker) and Cisco Ramon (Carlos Valdes), who claim that this invention will bring about unimaginable advancements in power and medicine. However, something goes horribly wrong during the public unveiling, and when the devastating explosion causes a freak storm, many lives are lost and Barry is struck by lightning. After nine months in a coma, Barry awakens to find his life has changed once again – the accident has given him the power of super speed. Thrilled with his new powers, Barry learns how to control them with the help of Dr. Wells and his team. However, keeping his secret from his best friend Iris (Candice Patton) is proving to be harder than he thought, especially when Joe's new partner, Eddie Thawne (Rick Cosnett), catches her eye. When another meta-human attacks the city, it's time to put Barry's new powers, and himself, to the test.
Arrow- Flash Crossover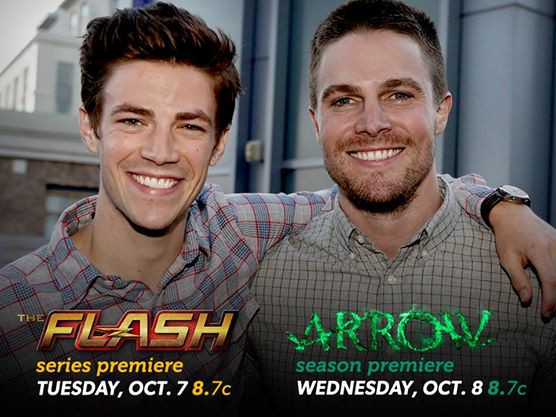 A new teaser released by The CW features Stephen Amell as Arrow in it, and centres on the conversation he has with Barry about establishing himself as a superhero identity, The Flash. Arrow advices The Flash about "making a difference, saving people."
Watch the teaser here.
Stephen Amell recently teased the crossover between his Oliver Queen and Grant Gustin's Barry Allen on Twitter.
He tweeted:
Hanging with @grantgust -- pic.twitter.com/7HytlPuE4M

— Stephen Amell (@amellywood) September 24, 2014
Grant Gustin also posted a picture of the Arrow-Flash crossover filming in Vancouver.
He wrote: "We got got during rehearsal today & the shot is pretty awesome. @amelladventures @james2bambamford@jonkralt"
The CW has also released an extended five-minute trailer for The Flash.