Flavia Pennetta has won the U.S. Open for her first Grand Slam title. Pennetta, the number 23 seed beat fellow Italian tennis star Roberta Vinci who is number 43 in the world, 7-6, 6-2.
Vinci caused the biggest upset in tennis history just a day earlier after she ended Serena Williams' Grand Slam bid in the semi-final putting paid to Williams' 33-match winning streak.
It resulted in an all Italian final that prompted Italian Prime Minister Matteo Renzi to fly into New York for the unprecedented occasion. On winning match point Pennetta threw her racket in the air in celebration and met her rival and childhood friend at the net for an emotional embrace. In a post-match on court interview she said: "I never thought I could be a champion. It's a big surprise for me...it's a dream come true. I'm really happy. It's also nice to play with a friend. Roberta had an incredible week."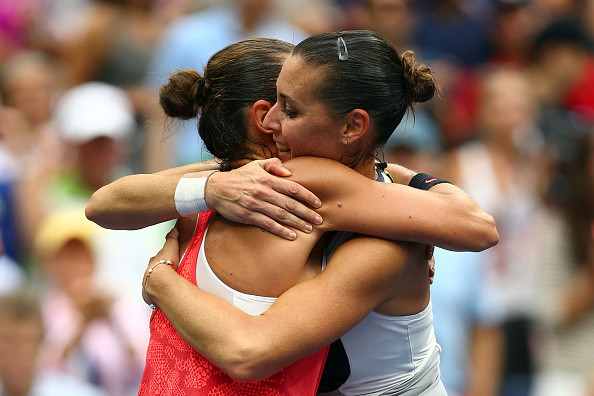 Accepting the trophy Pennetta then made the shock announcement that she was to retire from tennis. "One month ago I made a big decision. This is the way I'd like to say goodbye to tennis," she said. "I'm really happy! It's what all players want to do. To go out with a big trophy."
The president of the USTA presented her with a cheque for $3.3 million. Vinci jokingly pretended to steal the cheque and admitted that she had wanted to walk away with the champion's trophy. And while Vinci might have been disappointed in the face of defeat, losing to a friend may well have softened the blow. Vinci and Pennetta grew up 40 miles (65 kilometres) apart in coastal towns in Puglia and were former opponents and doubles partners as children.
"We know each other since forever," Pennetta said. "We spend so much time together, we could write a book about our lives."
@flavia_pennetta congrats I'm so happy you won. You deserved it. I am also happy for the rest of your life's journey. I will miss your smile

— Serena Williams (@serenawilliams) September 12, 2015
This was the first major final for either participant, and the first time since WTA computer rankings were instituted in 1975, that both U.S. Open women's finalists were ranked outside the top 20 (Vinci is 43rd).
Pennetta, who will turn 34 in February and almost quit the game because of a wrist injury years ago, became the oldest first-time grand slam champion in the Open Era. She is Italy's second women's grand slam singles champ, following in the footsteps of Francesca Schiavone.
Her win sent Twitter into a frenzy with fans and fellow tennis stars tweeting messages of congratulations. Serena Williams sent her best wishes tweeting: " @flavia_pennetta congrats I'm so happy you won. You deserved it. I am also happy for the rest of your life's journey. I will miss your smile"
Sunday's men's final sees Novak Djokovic, the world No. 1, face Roger Federer for the second successive time to cap a grand slam.
Congrats @flavia_pennetta on @usopen title&incredible career! Will be missed but glad u won't b around to knock me out of any more US Opens

— Nicole Gibbs (@Gibbsyyyy) September 12, 2015
Italy shud be proud of their champion ladies for the super match. Congratulations to @flavia_pennetta for retiring like a BOSS #USOpen2015

— Pratham Mahajan (@MahajanPratham) September 12, 2015
Today's tennis was pretty awesome. Congrats @flavia_pennetta! #USOpen2015

— I. Marlene King (@imarleneking) September 12, 2015
Congratulations to 2015 #USOpen champion @flavia_pennetta & to @roberta_vinci for a wonderful match! We're proud of both of you @ItalyinUS

— Claudio Bisogniero (@CBisogniero) September 12, 2015