Philippines troops have found banknotes and cheques worth $1.6m (£1,2m) abandoned in the besieged town of Marawi – in what they believe is a signal the militants are withdrawing.
The country's military has been battling against Maute militants – affiliated to the Isis terror group – in Marawi for the past two weeks.
The army said on Tuesday (6 June) it had recaptured several buildings controlled by snipers.
In one house, soldiers discovered a vault packed with stacks of money and cheques. It is believed the money could come from a bank that was raided when violence erupted in May.
"The recovery of those millions of cash indicates that they are running because the government troops are pressing in and focusing on destroying them," Marines Operations Officer Rowan Rimas said on Tuesday.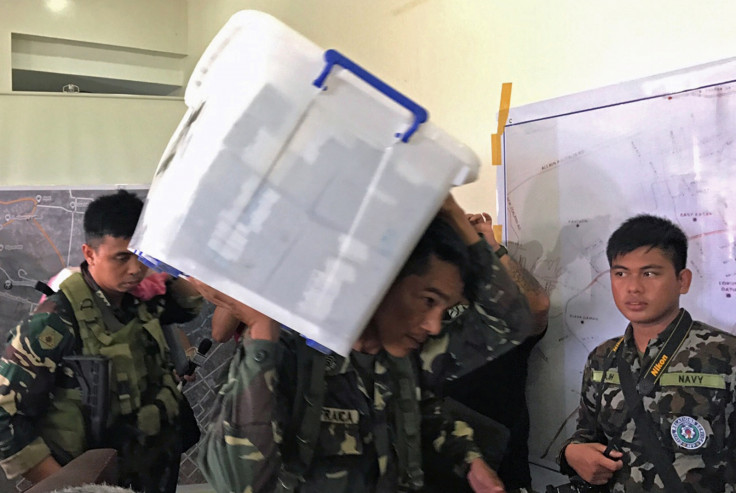 Maute militants began attacking areas of Marawi and kidnapping civilians on 23 May, in retaliation to the army's failed attempt to capture Isnilon Hapilon, a Filipino militant believed to have links to Isis.
Fighting prompted President Rodrigo Duterte to declare martial law on the island of Mindanao, where Marawi is located.
Dozens of foreign fighters have been fighting alongside the Maute in Marawi. A Philippines intelligence source said that of the 400-500 fighters who seized Marawi, as many as 40 had recently come from overseas, including from countries in the Middle East.
It is believed around 100 militants are still holding out in Marawi, with the army saying it will be able to recapture the entire town in the next few days.
Fighting has caused the death of between 20 and 38 civilians, 120 militants and 39 security officers.
Thousands of people have fled the town since the siege began. However, hundreds remain trapped in the town after gunfire disrupted a four-hour-long ceasefire to evacuate civilians on 4 June.
The ceasefire was brokered by the Moro Islamic Liberation Front (MILF) rebel group, based in Mindanao.
Peace negotiator Irene Santiago, appointed by Duterte to organise a peace corridor, said negotiations were ongoing to secure another temporary ceasefire.
There are a large number of Muslims in Mindanao, but the rest of the country has a predominantly Roman Catholic population.