Flickr has launched an updated iOS app which will intergrate with both Facebook and Twitter, as it looks to mobilise its 85 million users.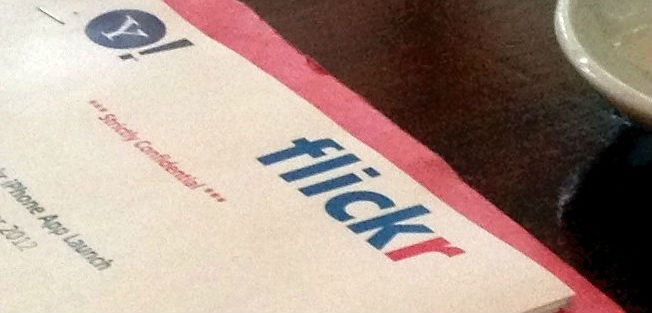 Flickr, which is owned by Yahoo, has a huge online presence with over 85 million users, however it has failed to get that audience to engage with its mobile applications, with the likes of Instagram grabbing a huge slice of the mobile the photo-sharing market.
The new Flickr iOS app features a new magazine-like interface, Intagram-like filters and, unlike Instagram, will allow users to share their photos via Twitter, with the images showing up within people's timeline.
The launch of this app comes just days after Instagram pulled support for Twitter cards, meaning Twitter users have to now click on a link to the Instagram site to see photos from the Facebook-owned app.
Flickr's new app is only available on iOS, with Android and Windows Phone users having to make do with older versions of the app which don't have all the new features. When asked if Yahoo was planning on releasing other versions of the updates app, Jen Davies, EMEA Product marketing at Yahoo simply said : "2013 is going to be a big year for Flickr."
"Photography is part of what most people do every day which is why Flickr is such an important part of what Yahoo does," Davies added.
Davies also said that since Marissa Mayer joined Yahoo as CEO back in July, a bigger focus had been put on Flickr, with more investment and more developers assigned to the Flickr team.
Users
Flickr's 85 million users upload over 3.5 million images each day to the image hosting service, and while Davies would not reveal the percentage of these using the service's mobile apps, she agreed that there was a "huge untapped potential" there.
Flickr sees its ability to share photos on whatever platform you like as its key selling point, and making it as easy as possible to do that is another factor is attracting people to the service.
The new app allows user the ability to share images via Twitter, Facebook, Foursquare, Tumblr or email and each service has been optimised to make the images look their best whether displayed in someone's Twitter timeline or Facebook feed.
Yahoo has been going through some major changes lately, with a lot of fanfare surrounding the appointment of Mayer back in July. Mayer has made no secret of her focus on products, and especially mobile products, and Yahoo has launched several new and revamped products in the last six months.
As well as the new Flickr app launched today, Yahoo launched a revamped mail client with associated iOS and Android apps earlier this week.
Impact
Speaking about the impact Mayer has had on the company, Caroline Macleod-Smith, head of UK PR at Yahoo UK said: "There is an absolutely fantastic energy. She is very, very impressive [as has been] the focus she has put on the business and getting everybody focused on delivering these great products on time."
With Instagram pulling its support for Twitter and looking to focus on its Facebook integration, Flickr could be entering the photo-sharing market at the right time, with its open-to-everyone approach.
The new app includes a number of features which are unique to Flickr, and some which are not but have not been included in previous Flickr apps. Like pretty much every other photo app these days, Flickr's iOS app now includes filters, to allow you to add effects to your images after taking them.
A fad made popular by Instagram, a lot of Twitter and Facebook users now complain of seeing too many of these processed images in their timelines.
Among the more unique features in the new app is the ability to de-bundle the focus and exposure, and while this is available in some camera apps, it is not available in the most popular ones such as Instagram and the native iPhone app.
The app also uploads images to your Flickr account in native resolution, which means you can use your Flickr account as an back-up service should you lose your phone. Apps like Instagram only upload lower resolution images to the cloud.
The Flickr app is available now in the iOS Store for free, though for unlimited uploads and access to all Flickrs online features, a Flickr Pro account will cost you £15.45 a year.