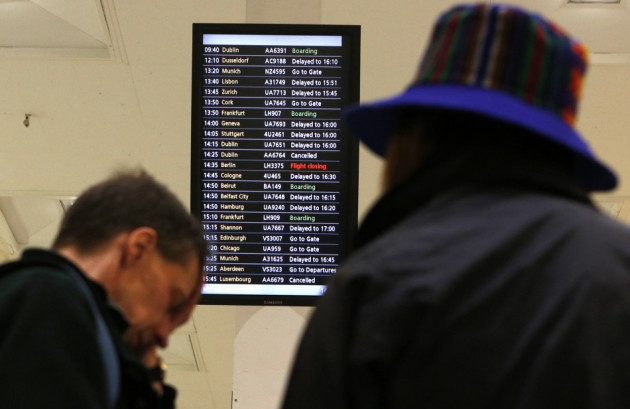 Thousands of flights across the UK and Ireland have been grounded because of a technical glitch at a vital air traffic control centre.
Heathrow and Stansted in south-east England, Glasgow in Scotland and Ireland's Dublin have all been affected.
The National Air Traffic Control Service said that problems switching from night-time to daylight operation at the UK's chief air traffic control centre at Swanwick, Hampshire, had caused the fault.
"Engineers are working to rectify the problem as soon as possible," said a spokesperson.
Flights from Stansted are delayed by up to two hours, while Gatwick airport, to the south of London, has reported that 20% of its flights are delayed.
Passengers are advised to check the status of their flight with their airlines.
The glitch has also affected Edinburgh, Manchester, Birmingham, Southampton, Luton and London City airports.
On its website, Ryanair apologised for any inconvenience: "Ryanair has been advised of an equipment failure within UK air traffic control which will cause significant flight delays and possible cancellations."
Independent aviation analyst Chris Yates said: "It's going to be a day of frustrations and the knock-on effects are going to last for the whole day because of the backlog of planes. It will be a tough day for everybody.
"It may be that some maintenance was going on overnight and that has caused the problem, or it could be a fibre-optic cable linking Swanwick with the rest of the UK has failed for some reason," he said.
Passenger Daisy McAndrew told Sky News that her flight to Barcelona from Gatwick had been delayed.
"I have never heard of an example where every single plane is grounded - it's quite eery when I look out of the window to see the tarmac in Gatwick, normally so busy, and also the sky above Gatwick which is normally busy - completely static, there's nothing moving," she said.