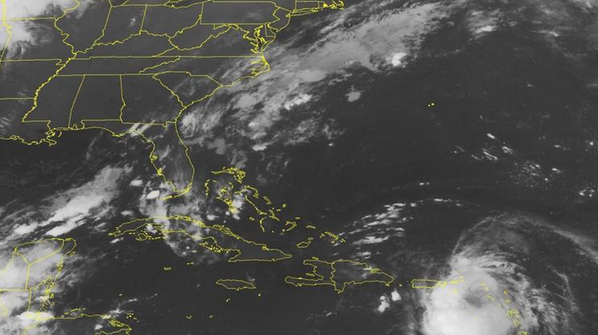 Florida Governor Rick Scott has declared a state of emergency as Tropical Storm Erika makes its way towards the south-eastern United States. 12 people were killed in Dominica by the storm which downed trees and power lines as it triggered heavy floods. Images from the tiny Caribbean island show the extent of the devastation with a road cut in half and a plane floating through what used to be an airport runway.
The death toll may rise as rescue crews continue to search for missing people. More than 20 are still missing, Prime Minister Roosevelt Skerrit said on Friday (28 August). The storm is expected to hit the southern part of the state by Monday, with up to eight inches of rain predicted as it moves across the Atlantic.
Chris Landsea, a meteorologist with the US National Hurricane Centre, said: "The main threat will be rainfall. You've seen some horrific rainfall in the Caribbean with what happened in Dominica."
Governor Scott issued the emergency declaration for all counties, saying: "Erika poses a severe threat to the entire State of Florida and requires that timely precautions are taken to protect communities. We don't know how much land it's going to go over. We don't know how much water we're going to get. It's been years since we've had a hurricane," Scott said. "Think of how many people have moved to our state and never even experienced a hurricane."
Erika is expected to remain a tropical storm as it approaches South Florida. The latest tracking has it sliding between Cuba and the Bahamas, pushing into the southern tip of Florida early Monday and then churning through the heart of the peninsula.
The state's National Guard are now activated and, under the state of emergency, authorities are permitted to waive tolls and rules to allow emergency crews and vehicles to move throughout the state. The US National Hurricane Centre reported sustained winds of around 50mph at 8am on Friday morning . The U.S. Coast Guard warned ports in South Florida to prepare for the possibility of sustained gale-force winds within 72 hours.
"Mariners are reminded that there are no safe havens in these facilities and that ports are safest when the inventory of vessels is at a minimum," a Coast Guard statement said. "All oceangoing commercial vessels and oceangoing barges greater than 500 gross tons should make plans for departing the port."
The storm was moving over Puerto Rico prompting authorities to close roads over concerns about landslides Puerto Rico Governor Alejandro Garcia Padilla activated the National Guard in Puerto Rico, where the storm knocked out power to some 200,000 people. There were no immediate reports of casualties on the island.