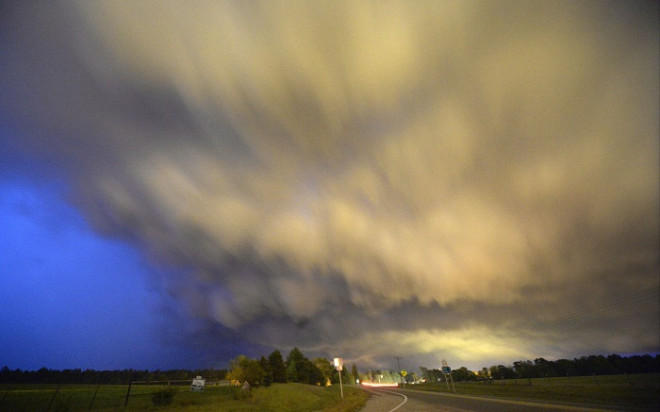 Forecasters have predicted a strong chance of tornadoes across several central US states this weekend.
Storms are expected to start in the Great Plains states of Nebraska, Kansas, Texas, Oklahoma and South Dakota on Saturday, before moving eastwards into Louisiana, Arkansas and Missouri on Sunday.
The severe weather is believed to be the worst of the season so far and may turn into one of the top severe weather events this year, says AccuWeather meteorologist Alex Sosnowski.
Thunderstorms, heavy rain, hail and winds of more than 70mph are likely, bringing a risk of flash flooding. Local residents were urged to prepare for the possibility of dangerous weather, although experts are unsure of how severe the storms will be.
People planning to take part in outdoor activities were also encouraged to ensure that they have access to weather warnings in case they need to quickly find shelter from stormy weather.
Bill Bunting, operations chief for the Storm Prediction Center in Norman, Oklahoma, said strong winds in the upper and middle atmosphere meeting air moving north from the Gulf of Mexico are creating conditions conducive for tornadoes to develop.
"Our run of relatively quiet weather may be about to come to an end," Bunting told the Associated Press.
"The threat is there and folks need to monitor the latest information from the National Weather Service."
Organisers of the Oklahoma City Memorial Marathon, which is scheduled to take place on Sunday, said an alert system will be put in place to notify participants and spectators of approaching storms.
The Midwestern and southern parts of the US have not yet experienced stormy weather this spring, although residents are accustomed to volatile weather at this time of year.
Last November, unseasonal violent tornadoes swept through the US Midwest, destroying buildings and overturning vehicles in the states of Indiana, Kentucky and Illinois. At least eight people were killed and several hundred people were injured.
In April 2011, 122 tornadoes struck parts of Georgia, Virginia, Tennessee, Alabama and Mississippi, killing 316 people in one of the deadliest tornado outbreaks in US history.