Floyd Mayweather Addresses Secret Manny Pacquiao Talks and Dismisses Bob Arum Claims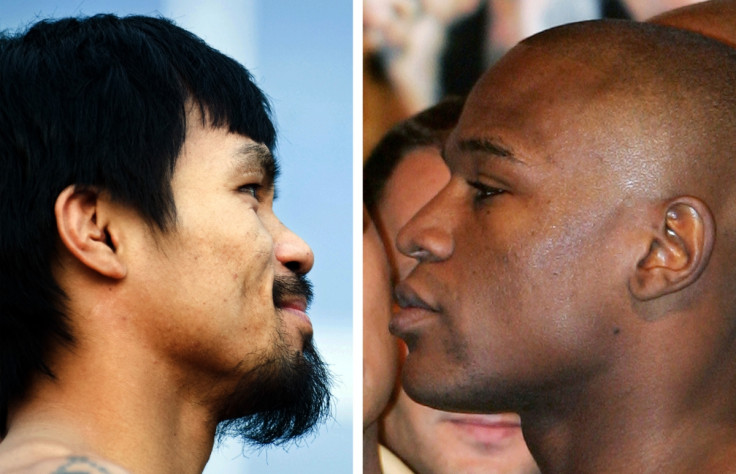 Floyd Mayweather Jr has dismissed claims his camp is negotiating with Manny Pacquiao and Top Rank over a long-awaited showdown between the two welterweights.
Mayweather, 37, meets Marcos Maidana in a rematch of their May encounter on Saturday 13 September while the Filipino is preparing for his first WBO title defence against Chris Algieri in Macau later in the year.
Despite both fighters having other priorities, talk of a meeting between the two has intensified in recent weeks with Pacquiao himself recently declaring "serious negotiations" were underway. Those comments followed claims from his promoter and Top Rank CEO Bob Arum, who announced all parties were ready to agree to a deal that could see the two clash twice in 2015.
But in response, Mayweather has shot down such claims, accusing Pacquiao and his promoter of making things up.
When quizzed on Pacquiao and Arum's comments, Mayweather told Ben Thompson of Fight Hype: "All lies. You know me better than that."
Speaking at his official arrival at the MGM Grand in Las Vegas, the venue for Saturday's showdown, the five-weight world champion went one further, accusing Arum of inventing talk of a deal in order to boost interest in his client's November bout with Algieri.
He told reporters: "I can't say what the future holds. But as of right now, I think Arum and Pacquiao is trying to sell tickets for – I don't even know the guy's name, Algieri? They are trying to sell tickets for that fight."
Disputes over the split of the fight's purse and demands over Olympic-style random drug testing stopped what would have certainly been the largest-grossing fight in boxing history taking place four years ago. But while talk of a clash between the two best fighters in the division has remained unabated since then, reports of serious negotiations have often been chalked up to conjecture.
Arum's recent claim that the fighters' rival television networks – HBO (Pacquiao) and Showtime (Mayweather) were now keen to sign a contract briefly heightened the possibility of a fight in 2015.
"Both networks want this to happen," Arum said. "All signs seem to point to a first fight early next year.
"A second fight is the autumn would provide a different cash split because the winner of the first would claim the higher percentage. As each of them believes he would win, that provides an extra incentive."
© Copyright IBTimes 2023. All rights reserved.