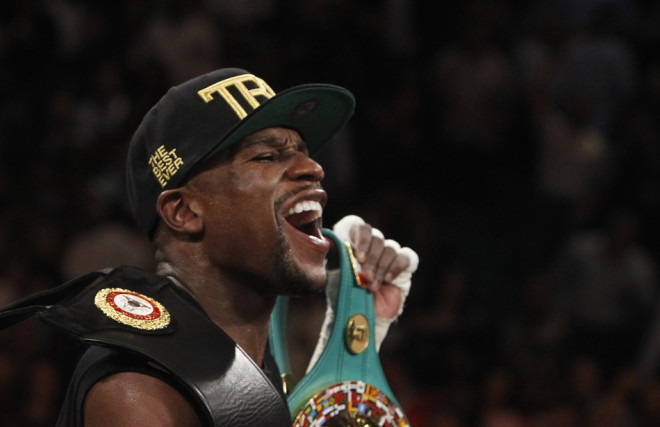 Floyd Mayweather Jr has revealed it was Marcos Maidana's victory over Adrien Broner that gave him the edge over Amir Khan after the Argentine was named the unbeaten world champion's next opponent.
Bolton-born Khan had been hopeful of being named Mayweather's next opponent for the scheduled May bout in Las Vegas after signing a contract in December and winning an online poll launched by the American to decide who his next challenger would be.
But despite winning the poll by a landslide, Mayweather Productions have confirmed the five weight world champion will take on WBA world champion Maidana in a unification contest later this year.
"After weeks of speculation, including feedback from fans across an array of social media platforms, boxing's pound-for-pound superstar, pay-per-view king and WBC Welterweight World Champion Floyd "Money" Mayweather will face the dangerous, power-punching WBA Welterweight World Champion Marcos "El Chino" Maidana on Saturday, May 3," a statement read.
"Marcos Maidana's last performance immediately brought him to my attention," said Mayweather.
"He is an extremely skilled fighter who brings knockout danger to the ring. I think this is a great fight for me and he deserves the opportunity to see if he can do what 45 others have tried to do before him - beat me."
While Khan has not fought since April last year after his December bout with Devon Alexander was shelved, Maidana's prospects were elevated with a win over Broner in the same month. The 30-year-old stopped the self-appointed heir to Mayweather's throne to end his unbeaten run and lift the WBA welterweight title on an unanimous points decision.
"I am extremely happy to be facing Floyd Mayweather because it will give me the opportunity to show the world that I am the best welterweight in the division," Maidana said.
"I just handed a great defensive fighter his first loss and I plan to do the same to Mayweather. I don't care whether he's the best and undefeated."
Khan, who beat Maidana in 2010, was left frustrated with the decision that leaves his immediate future uncertain.
"No response from Mayweather or his team," Khan tweeted on Friday. "Fights not happening. I should of taken the title fight last December against Alexander," he said.
"Very disrespected by his team. Wasted my time. Good luck to Maidana, against Mayweather."