Legendary trainer Freddie Roach believes that Robert Guerrero could be the first man to defeat Floyd Mayweather when the two clash at the MGM Grand in Las Vegas on May 4.
Mayweather has just signed a new six fight deal and there seems little to suggest that he has lost his hunger for the sport. He remains an overwhelming favourite but at 36-year-old there will be question marks over his stamina.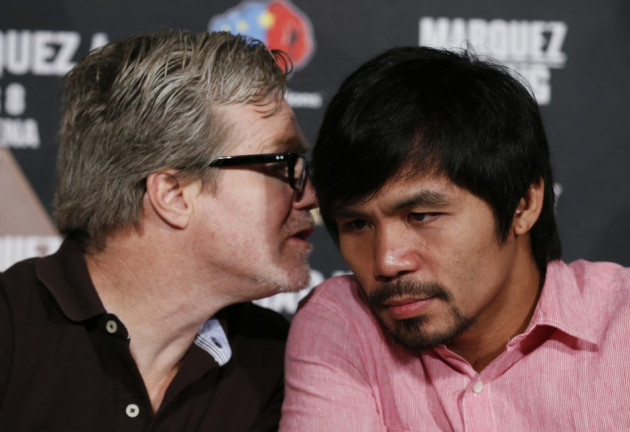 Guerrero is a come forward fighter and will be looking to constantly pressurise Mayweather for the entire 12 rounds. Having shown his undeniable quality in unanimously outpointing Andre Berto there is a suggestion that this could be his chance to cause a massive upset.
Having studied Mayweather on plenty of occasions, when it had seemed his fighter Manny Pacquiao would share a ring with Floyd, Roach believes there is a chance that Guerrero could cause a massive upset.
"I think Floyd picked the wrong guy. Guerrero has a great shot of winning that fight. He's very physical, very rough in there and he'll take people out of their game-plan," Roach told Bleacher Report.
"He trained in my gym for about three years, he and Manny Pacquiao sparred thousands of rounds. He's definitely a high-level opponent and I give him a chance to pull the upset."
With Mayweather signing a new long-term fight contract with Showtime, there is a suggestion that he could finally share a ring with Pacquiao.
The Filipino legend is likely to face Juan Manuel Marquez for a fifth time, and should he gain revenge over the Mexican, then there will once again be calls for him to face Mayweather.
While this still remains a pipe dream, Roach believes that his fighter would get the better of Mayweather if they finally did manage to make this bout a reality.
"We can set some traps for Mayweather that'll give him a lot of difficulty and I think he knows that. I welcome that fight and would love the challenge and I'm sure Manny would also."