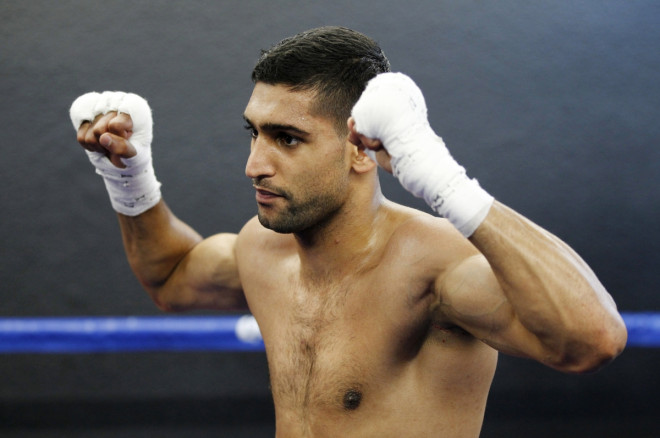 Amir Khan's promoters have revealed Floyd Mayweather still hopes to face the Bolton-born fighter despite his decision to name Marcos Maidana his next opponent.
27-year-old Khan was considered the favourite for the May 3 fight in Las Vegas after signing a contract that put him in line for what would have been his biggest ever payday before winning an online poll to determine Mayweather's next opponent ahead of Maidana.
But he was left bitterly disappointed after Mayweather confirmed his bout with the Argentine, pointing to Maidana's victory over the previously undefeated Adrien Broner, the self-proclaimed heir to the unbeaten American's throne, as the determining factor behind his decision.
But Khan's promoters Golden Boy remain confident a super fight between the two is still a real possibility somewhere down the line.
"What Maidana did to Broner really changed the dynamics. Mayweather and the fight fans in the US, and the US media felt that Maidana was the bigger fight, more dangerous fight at this particular point for Floyd," Richard Schaefer, chief executive of Golden Boy, said.
"That doesn't mean that a fight between Amir Khan and Mayweather is never going to happen. I believed it then and I believe it now that Amir Khan has the skills and that one weapon - which I think is going to give Floyd Mayweather a lot of problems - and that is his handspeed.
"Amir's the fastest fighter in the world. He can clearly give trouble to Mayweather, so I believe that fight is going to happen. It's just not now."
"I saw Floyd on Monday night at the Los Angeles Lakers basketball game and he was telling me, 'tell Amir that it's not going to happen now, but it will happen'," said Schaefer.
"So he's definitely open to eventually fighting Amir."
Khan vented his frustration with the decision that has seen his career stall again, having not fought since his win over Mexican Julio Diaz in April 2013. The Brit shelved a world title bout with Devon Alexander in December in preparation for a potential meeting with Mayweather and is still looking for clarification as to why the fight eventually fizzled out.
"Despite having signed my part of the agreement to fight Floyd in early December, I've been preparing myself for some time that the match up with him wasn't going to happen, as I announced on Twitter a few days ago. Therefore, this announcement did not come as a surprise," Khan said in his statement.
"I am, however, very disappointed with Floyd and his team for not providing any explanation as to why he delayed the announcement for so long and ultimately avoided the fight with me.
"Clarification, if he was not fighting me, would have allowed me to look over my options and pursue another path, rather than the ultimate delay to my career this has caused.
"It has been a very frustrating period as I'd been due to fight in December against Devon Alexander, however, I was strongly advised to not take this fight as I would be facing Floyd this May - and therefore signed my side of the contract on this belief."
Having not fought for ten months, Khan is now keen to move on from the debacle and continue with his career, hoping to announce his next opponent in the coming weeks.
"I'm focused and ready for my next outing - we currently have a few options on the table at the moment and my team are working alongside Golden Boy Promotions to announce my next fight within the next 10 days."