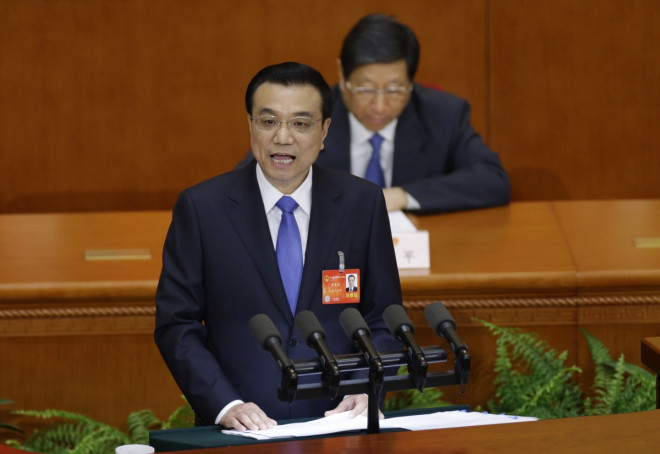 China has kept its economic growth target unchanged at 7.5% as it aims to achieve a stable and balanced growth in the long run while implementing much needed reforms.
"On the basis of careful comparison and repeatedly weighing various factors as well as considering what is needed and what is possible, we set a growth target of around 7.5%," Premier Li Keqiang said in the government work report delivered at the parliament's annual session.
This is for the third straight year that Asia's largest economy has put its gross domestic product growth goal at 7.5%.
China is currently the world's fastest-growing major economy with annual gross domestic product growth rates averaging 10% for the last 30 years.
However, its economic growth has slowed down recently due to increasing exposure to foreign markets. In 2013, the economy expanded 7.7%, the lowest pace for more than a decade.
In addition, recent data revealed that the country's manufacturing activity is softening, raising concerns about its growth outlook.
The country also targets a consumer price inflation rate of about 3.5% and an increase in personal income in line with economic development. It also looks to create 10 million more urban jobs and keep unemployment rate at a maximum of 4.6%.
Shifting Focus to Reforms
Li's report added that the government's top priority this year is the implementation of reforms.
He noted that idle factories will be shut down and efforts for a new environmental protection tax will be accelerated to create a greener economy. In addition, economic growth will be balanced and will be powered by consumption rather than investment.
China's economic planner, the National Development and Reform Commission, told parliament that the government will target 17.5% growth in fixed-asset investment this year, the slowest in at least 10 years.
Investment has been the largest driver of China's economy and accounted for over half of last year's 7.7% growth by expanding 19.6%.
"In carrying out reform, we need to focus on areas where the public call for reform is strongest, the most pressing problems hindering economic and social development, and links on which there is extensive public consensus," the report said.
"We must have...the mettle to fight on and break mental shackles to deepen reforms on all fronts."
Meanwhile, analysts noted that the country needs to ease its policies further in order to achieve the growth target.
"From the Chinese authorities' perspective, delivering a reasonable growth is to help alleviate the concern of a sharp economic slowdown. However, the forward-looking data suggest that China's growth momentum continues to moderate significantly, which implicitly calls for significant policy easing if the authorities commit to the growth target at 7.5%," said economists at ANZ Bank.