Fonterra, the world's largest exporter of dairy products, said it would press ahead with plans to roll out its own branded milk formula in China despite the recent price-fixing scandal and the contaminated milk scare that rocked the firm.
Fonterra, the top raw material supplier to China's dairy industry, had refrained from selling its own baby formula in the world's second largest economy owing to the 2008 melamine poisoning incident. Fonterra held a stake in the perpetrator of that scandal, Sanlu.
However, the New-Zealand based firm said it could no longer resist the lure of the rewarding infant formula business, reported Reuters. China's milk formula market, worth $12.4bn (£7.7bn , €9.2bn), is expected to double by 2017.
Fonterra's China strategy would also see it selling more value-added products, as they enjoy higher-margins when compared to bulk milk powder sales. The company would also enter the UHT milk segment by 2016.
Fonterra's latest foray in China would be up against stiff competition from dairy major Danone and rival Mead Johnson. However, Fonterra expects to profit from the planned consolidation of China's dairy industry.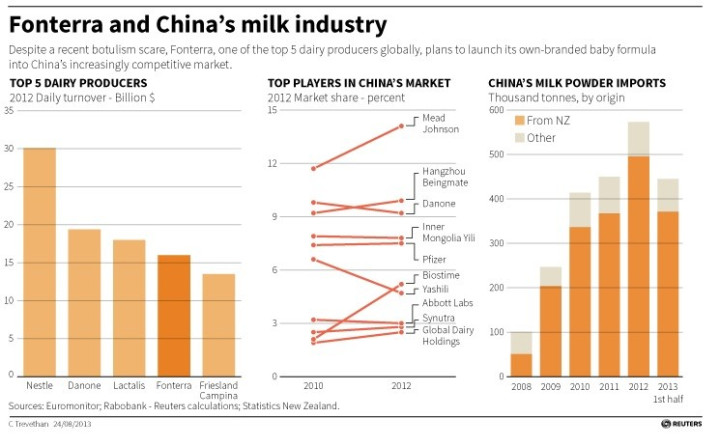 "We reviewed our plans after the (botulism) crisis. We reviewed whether we should delay it, and we said 'No', so it's full steam ahead," Chief Executive Theo Spierings told Reuters.
"In China ... we're going faster. In other geographies, in India, we've put some plans on hold. In Africa, we are only stepping up things in a limited way," Spierings added.
The company's Anmum brand of baby milk formula would be available in 70 Chinese cities within three years.
Spierings admitted the company had to work harder to regain the trust of Chinese consumers, following the recent contamination scare. Fonterra had found that an ingredient in some of its products contained a strain of bacteria that can cause botulism, a disease leading to severe food poisoning. The admission triggered product recalls in China and eight other countries.
Last month, Fonterra and five other foreign dairy manufacturers were fined by Chinese authorities for fixing the price of infant milk formula, a highly sought after product in China given that consumers do not trust local brands.