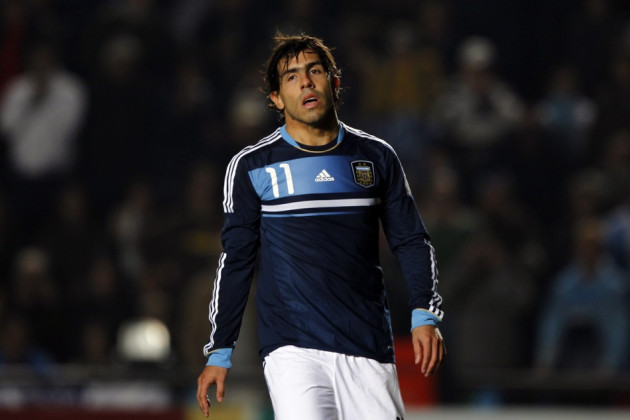 Carlos Tevez is still determined to leave Manchester City this summer and is not "overly worried" by the collapse of his move to Corinthians, says his representative.
The Brazilian club pulled out of a £40m move for the 27-year-old after deciding a deal couldn't be concluded before the close of their international transfer window on Thursday.
Kia Joorabchian told BBC Sport: "This is Carlos Tevez we are talking about, one of the best players in the world. We are not overly worried.
"He wants to leave but is still a City player at the moment and we will of course respect that."
Tevez is currently on holiday after Argentina were knocked out of the Copa America. But the striker reiterated his desire to leave the Premier League and Joorabchian confirmed he expects other offers to materialise.
"We've just got to wait and see who comes in next for him," Joorabchian said.
"This deal was always going to be difficult because of the timing. In the end, this came down to small details, to haggling over a relatively small amount of money, and it couldn't be done in time."
He dismissed claims that the transfer fell through because Corinthians failed to provide guarantees for the structure of payments.
"To say Corinthians could not provide guarantees for the money is nonsense," he added. "Firstly, they are the biggest club in Brazil. Secondly, any club that makes an offer and cannot pay will get suspended by FIFA and have points deducted."
Who these "interested parties" are remains to be seen. Chelsea, Real Madrid and Inter Milan have all been linked with the Argentina international. But for all three clubs, "interest" was tenuous at best and arose because they were the only clubs who could afford City's £50m price-tag, rather than out of any concrete desire to buy the player.
Inter Milan had recently emerged as benign favourites to sign the City captain. With a part-exchange deal involving Wesley Sneijder reported in today's press. But these reports were quashed earlier today, with City manager Roberto Mancini showing little interest in signing the Dutch midfielder, according to talkSPORT.
Meanwhile, Inter Milan chief Massimo Moratti has repeated his wish to keep hold of Sneijder.
"I hope he stays. At the moment it seems to me there are many voices and little money," he said.