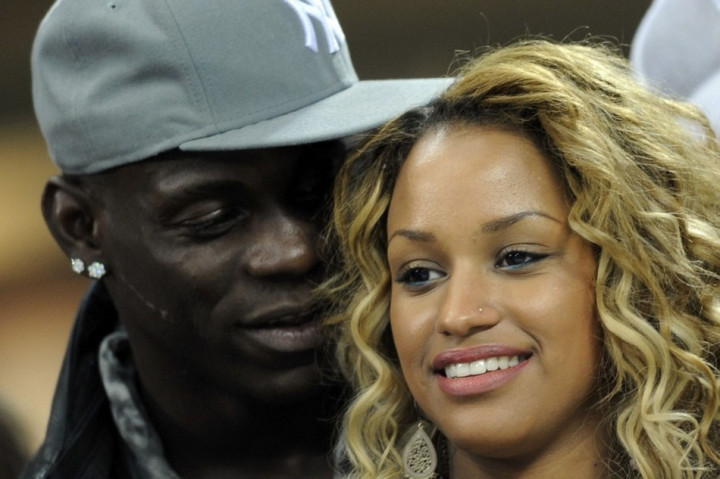 Football bad boy Mario Balotelli allegedly cheated on his ex-fiancée Fanny Neguesha with a Liverpool fan he met on social media.
According to the Sunday Mirror, the 24-year-old Italy striker flirted online with ­Emma Dalton, ­a hairdresser, days before inviting her to a party at his rented mansion in the upmarket ­Liverpool suburb of Formby.
Balotelli had "a three-hour marathon romp" with Dalton and asked her to leave his six-bedroom mansion in the middle of the night.
Dalton said: "I know he has a reputation, but I thought he'd changed from the things I'd read. He was charming and as far as I know single so I thought, 'Why not?' Now I feel stupid.
"I should never have gone to his house but what's done is done. He was only interested in one thing from me and then wanted me out of the way," she added.
Dalton's friend detailed how the two contacted each other: "She only contacted him as a bit of a joke. She didn't think for a second he would reply. How many messages must he get sent every day? But he did reply and he was quickly sending her messages asking for her to send pictures of herself and her mobile number to arrange to meet up.
Lonely guy
"When they were talking on the phone, Emma asked him about Fanny. He told her they'd split up and that he didn't have any female friends in Liverpool," the friend added.
On 5 September, Balotelli invited Dalton and her female friends to the £1.8m ($2.9m, $2.2m) mansion and when they arrived, ordered to hand over their mobile phones before entering the property.
Balotelli offered to show her the mansion and the friend revealed that "before long… Emma was in his bed".
"She said he told her, 'This is nice. It helps my football'," the friend said.
At around 3am, Balotelli asked Dalton to leave along with her friends, who had called a taxi to go back.
The next day, he called her and said he just wanted to be "good friends" with her, as he wanted to get back with Neguesha.
"She felt disgusted at the way he treated her. He had told her he wasn't with Fanny, then when they were in the house together he didn't mention her once. But the next day he wanted Fanny to be his fiancée again.
"How often has he behaved like that? I'm sure she would like to know what sort of man he really is," the friend added.