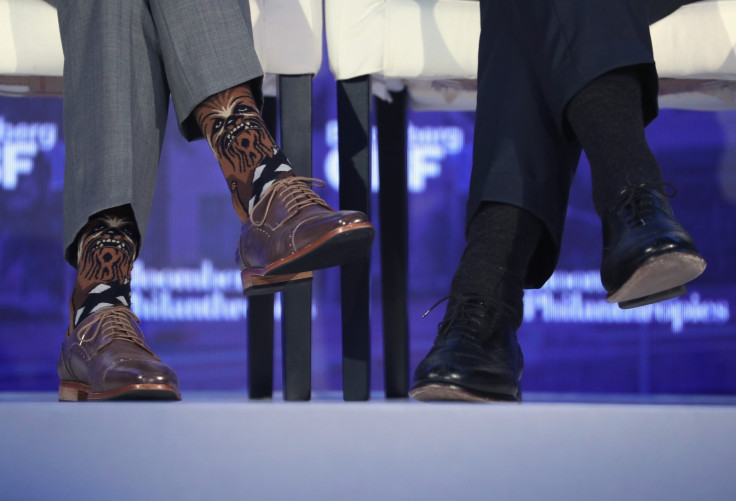 Canadian Prime Minister Justin Trudeau wore a pair of Star Wars-themed Chewbacca socks while taking part in the Bloomberg Global Business Forum in New York on Wednesday (20 September) and the Internet went berserk.
Trudeau's quirky socks honouring the beloved biped "Chewie" was spotted peeking out under his pants during a discussion with Dutch Prime Minister Mark Rutte and Melinda Gates as they talked about global issues, challenges to international economic growth, poverty and disease initiatives. The event, which was held the same week as the UN General Assembly, brought together world leaders and international CEOs to discuss some of the most pressing economic issues facing the world today.
The Internet, however, happened to notice Trudeau's socks and erupted with a slew of memes, jokes and comments praising the Canadian leader's latest "perfect" sartorial choice.
This isn't the first time Trudeau's choice of colourful and often funky socks have garnered attention.
Earlier this year, the Canadian leader sported a pair of mismatched socks featuring C-3PO and R2-D2 during a meeting with the then Irish Prime Minister Enda Kenny on 4 May - also known as Star Wars Day. While marching in Toronto's Pride Parade in June, he wore a rainbow-striped pair with the words "Eid Mubarak" printed on them.
During a NATO meeting in Brussels in May, he sported one blue sock and another pink one, each with the NATO flag emblazoned on it.
"Justin Trudeau wearing Chewbacca socks... the stuff of fantasies around the globe," one Twitter user wrote. Another added: "Like I needed more reasons to like the guy."
"That settles it," one person chimed. "I'm moving to Canada."
However, not everyone was in agreement over Trudeau's socks.
"@Justin Trudeau I thought we were friends?" Star Trek's original Captain Kirk, William Shatner, tweeted. "Chewbacca socks?"