The bromance lives: Photo of Obama and Trudeau dining in Canada leaves the internet swooning
"I want a man who looks at me the way Justin looks at Obama".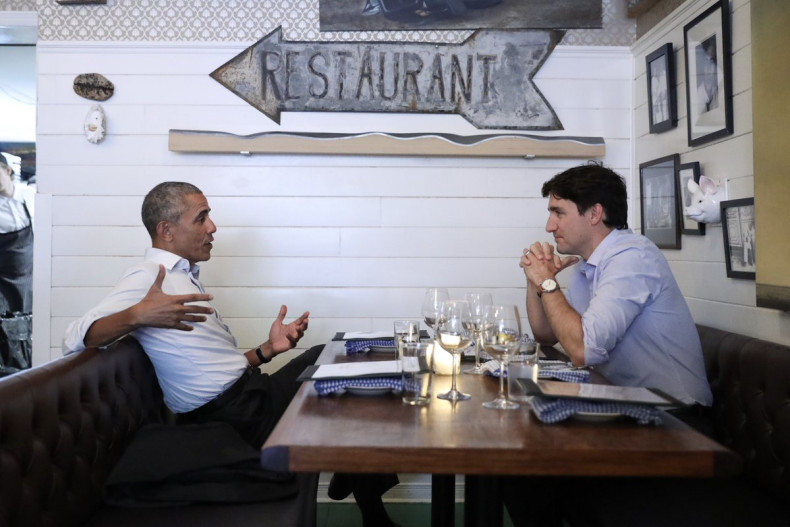 Former US President Barack Obama and Canadian Prime Minister Justin Trudeau were spotted casually grabbing a bite to eat in Montreal, Canada on Tuesday night and the internet has been left swooning. Trudeau tweeted a photo of their casual dinner at Liverpool House in St. Henri after Obama's stirring speech to the Montreal Chamber of Commerce.
During Obama's first visit to Canada following his presidency, he touched on various key issues in his wide-ranging speech including climate change, the Paris Climate Agreement, women's rights and the ongoing battle against fake news.
"Obviously I'm disappointed with the current American administration decision to put out of Paris," Obama said. "We're going to have to act with more urgency. I'm looking forward to the United States being a leader, and not just on the sidelines going forward."
Obama did not mention Trump by name during his speech.
"In periods like this, people looking for control and certainty - it's inevitable," Obama said. "But it is important to remember that the world has gone through similar moments.
"History also shows there is a better way. Canada shows, the United States, Europe, Japan show it is possible for us to overcome our fears and to reach across our divides."
Following the speech, Trudeau tweeted "How do we get young leaders to take action in their communities? Thanks @BarackObama for your visit & insights tonight in my hometown," alongside the photo of the pair talking during the private dinner. The Obama Foundation also shared a similar photo of the pair at the dinner table.
While crowds anxiously waited outside to get a glimpse of the Trudeau and Obama, social media, naturally, went bonkers over the photos.
"It's like Obama and Trudeau saw all the memes and said 'let's do dinner, for the fandom," one Twitter user wrote. Another tweeted: "I want a man who looks at me the way Justin looks at Obama."
Some joked that the internet's other favourite bromances "better watch out".
Many also complimented the duo on their choice of venue, while others drew comparisons between Obama's diplomacy and presidency with that of Trump's.