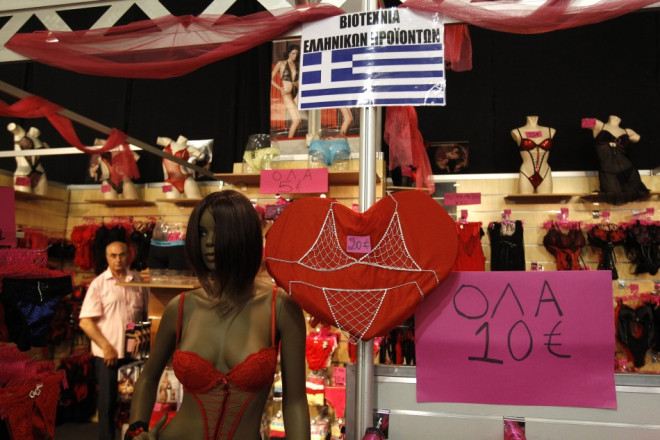 Two thirds of the total illegal profits generated from forced labour every year comes from the sex industry, according to a report by the International Labour Organisation (ILO).
The ILO in its report titled Profits and Poverty: The Economics of Forced Labour says that forced labour generates illegal profits of at least $150bn (£90bn, €110bn) per year.
Out of this, about $99bn comes from commercial sexual exploitation. Wages and intermediate consumption make up about 30% of the total earnings of forced labour victims in commercial sexual exploitation, according to ILO calculations.
In the Asia-Pacific region, illegal yearly profits from commercial sexual exploitation amount to $31.7bn, followed by 26.2bn in developed economies and the European Union.
Annual profits per victim are the highest in sexual exploitation at $21,800, and about 4.5m people are victims of forced sexual exploitation, according to the ILO.
"Profits per victim are highest in forced sexual exploitation, which can be explained by the demand for such services and the prices that clients are willing to pay, and by the low capital investments and low operating costs associated with this activity," the ILO says in its report.
"With a global average profit of US$21,800 per year per victim, this sector is six times more profitable than all other forms of forced labour, and five times more profitable than forced labour exploitation outside domestic work."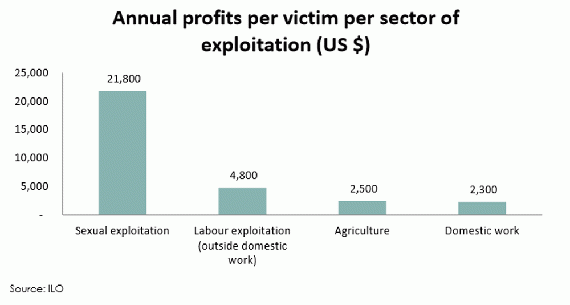 Forced economic exploitation, including domestic work, agriculture and other economic activities generates $51bn in illegal profits.
Forced labour in construction, manufacturing, mining and utilities generates $34bn, while that in agriculture, including forestry and fishing, yields $9bn. The remaining $8bn comes from forced labour in private households.
The ILO added that more than half of the 21 million people in forced labour are women and girls, primarily in commercial sexual exploitation and domestic work, while men and boys are primarily in forced economic exploitation in agriculture, construction, and mining.
"Forced labour is bad for business and development and especially for its victims. Our new report adds new urgency to our efforts to eradicate this fundamentally evil, but hugely profitable practice as soon as possible," said ILO Director-General Guy Ryder.