Ford will bring the Spotify music streaming service to its AppLink platform allowing drivers to control their music using only their voice.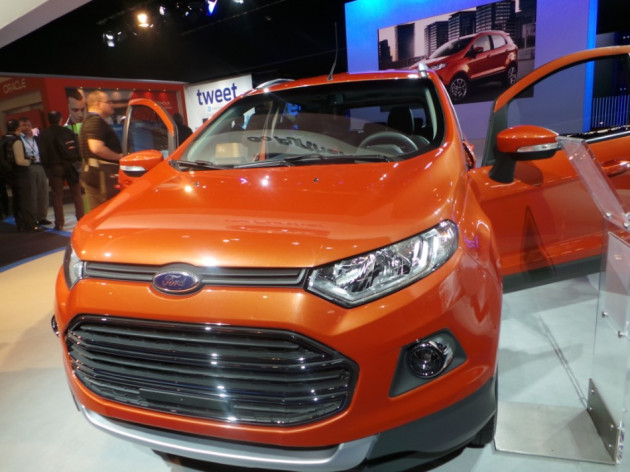 Ford's head of technology Paul Mascarenas announced the partnership at Mobile World Congress in Barcelona, where the company also unveiled its new EcoSport compact SUV which will launch in Europe next year.
The EcoSport will be among the first vehicles to offer AppLink in Europe and with Spotify will allow drivers to take their Spotify playlists with them in the car. The Spotify app for Ford's in-car infotainment system will be restricted to the 20 countries in which the music streaming service is currently available.
Mascarenas said that people now see Ford more as a "technology automotive company" and no longer a car specialist. Ford has led the way with in-car technology, with its SYNC voice-control system available in a wide range of cars.
Through its open source AppLink platform, Ford is hoping to attract a wide range of software partners to bring their apps to Ford's cars.
Spotify is one of the highest profile partnerships yet announced, though Ford does offer access to Pandora, a similar service to Spotify, in the US
AppLink.
Mascarenas announced his companmy is working with a non-profit organisation in order to get AppLink certified as an industry-wide standard, allowing other car manufacturers to use it in their systems.
Ford is already in talks with a couple of companies in relation to licensing AppLink to them.
As well as the Spotify partnership, Ford announced three other partnerships for Europe. Kaliki is an app which offers playback of newspaper and magazine articles, while Glympse allows you to share your current location with your family and friends.
The final new partnership is with the Aha, which delivers more than 30,000 stations of audio entertainment and information to the car.
Jeremy Green, telco strategy analyst, Ovum welcomed the Spotify announcement but questioned if it would lead to increased car sales:
"[Having] Spotify on board will undoubtedly boost Ford's in-car profile. The music giant's 20 million users will no doubt appreciate the announcements, although how many of its users will be able to afford a SUV (or even influence its purchase) will limit adoption. The other partners announced (Kaliki, Glympse, and Aha) look to be interesting content add-ons, but again are unlikely to sway the purchasing decision."