Fires raging in forests and woodlands across California have taken the life of a firefighter, left two dozen homes in charred ruins and forced thousands of people to flee. The Rocky Fire in Lake County north of San Francisco is the fiercest of 20 large fires being battled by 9,000 firefighters across the state, officials said. The fire broke out on Wednesday (29 July) and is only 5% contained.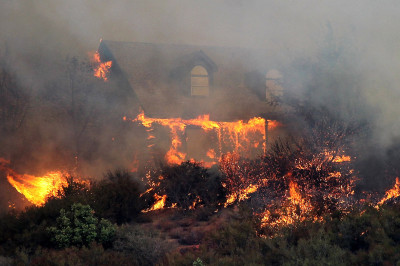 Daniel Berlant, an information officer with Cal Fire (The California Department of Forestry and Fire Protection) said drought conditions had led to the rapid spread. "The fire grew 20,000 acres in a five-hour period. That is an unbelievable amount of acreage burned in such a short amount of time. But again, it's because of these drought conditions that are allowing fires like that one and all the other that we're responding to grow so quickly," he said.
Firefighters battled through thick smoke and flying embers to turn loose horses, goats and other livestock as their owners fled to safety.
Among the fires burning in the state is the Frog Fire, which killed a firefighter on Thursday (30 July). David Ruhl, 38, a married father of two from Rapid City, South Dakota, died while assigned to the fire in the Modoc National Forest near California's border with Oregon. Ruhl was in a vehicle, looking for ways to fight the blaze, when officials lost contact with him, fire information officer Ken Sandusky said. His body was recovered the following day.
A woman was arrested in connection with a small fire near Groveland, a stop-off point for travellers headed to Yosemite National Park. Lisa Ann Vilmur was arrested on allegations of recklessly causing a fire. She was jailed on $100,000 bail. Another wildfire caused the evacuation of 200 homes in the central California community of Cascadel Woods. Authorities say a boy acknowledged starting the fire near Bass Lake by playing with a lighter to burn pine needles.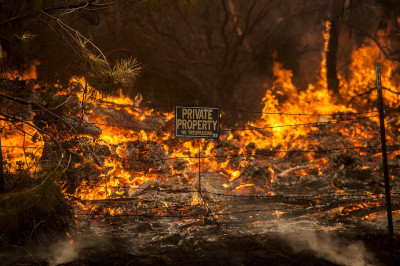 The fires prompted Governor Jerry Brown to declare a state of emergency for California and activate the California National Guard to help with disaster recovery.