King Fire: Suspected Arsonist Held on $10m Bail as California Wildfire Spreads [PHOTOS]
The King Fire, a massive forest blaze that has consumed dozens of buildings in northern California, continues to spread more than a week after it started. A man charged with starting the fire, Wayne Allen Huntsman, 37, has pleaded not guilty to arson and remains in El Dorado County jail on $10m bail.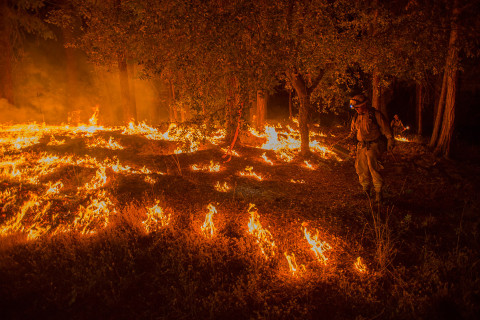 The gigantic fire now covers more than 87,500 acres (136 sq miles), making it larger than cities such as Atlanta, Las Vegas or Philadelphia.
Nearly 5,000 firefighters — from as far as Florida and Alaska — are helping California crews battle the blaze that has destroyed swathes of extremely dry tall timber.
The blaze began on 13 September to the east of Sacramento, raining ash on nearby towns and closing local schools.
California has seen an upturn in wildfires this year, with the record drought leaving bone dry brush and grass.