Forget Trump and Clinton, Michelle Obama should run for president
She is coming to the end of her eight-year term as First Lady with no negative baggage.
Michelle Obama's stinging rebuke to Donald Trump over his comments about groping women could be the intervention that finally seals the Republican candidate's fate in next month's election. The First Lady's speech, at a Hillary Clinton rally in New Hampshire on Thursday, distilled all the outrage and disbelief over Trump's remarks – and alleged sexual misconduct – that have been swirling around for a week into a succinct, damning judgement:
"This wasn't just locker room banter. This was a powerful individual speaking freely and openly about sexually predatory behaviour, and actually bragging about kissing and groping women, using language so obscene that many of us were worried about our children hearing it when we turned on the TV."
But her address did something else, which in the long-term could be just as significant, if not more so: it illustrated, in the vivid political brush strokes of charisma, stage presence and powerful oratory, what a strong candidate for president Obama would be.
It did not seem possible that the First Lady's speech to the Democratic Convention in July – in which she coined the phrase that is now a Clinton campaign slogan, "When they go low, we go high" – could be matched as one of the best political addresses of the year. Yet on Thursday, when Obama changed her script to declare how Trump's comments on tape from 11 years ago had affected her personally, she went one better: "It has shaken me to my core in a way that I couldn't have predicted," she said. "I can't believe I'm saying a candidate for president of the United States has bragged about sexually assaulting women... Strong men don't need to put down women to make themselves feel powerful."
Her remarks were judged to be the most extraordinary from a First Lady, a role which normally requires a degree of apolitical restraint. This was more than just a First Lady putting in a stump speech as a surrogate for a presidential candidate. It was stirring, electrifying oratory of the kind her husband used to make, and was a glimpse of what could be. Surely now the question of whether she could run for president in future has been reopened.
It is true that Obama has already ruled out a bid for high office. In March this year, when asked on stage at the South by Southwest festival in Texas whether she would consider a future presidential bid, the First Lady said: "No, no. Not going to do it," and then referring to her teenage daughters, Malia and Sasha, added: "The daughters of a president. Just think about it. Come on, young people. Not so easy. They've handled it with grace and with poise, but enough. Enough."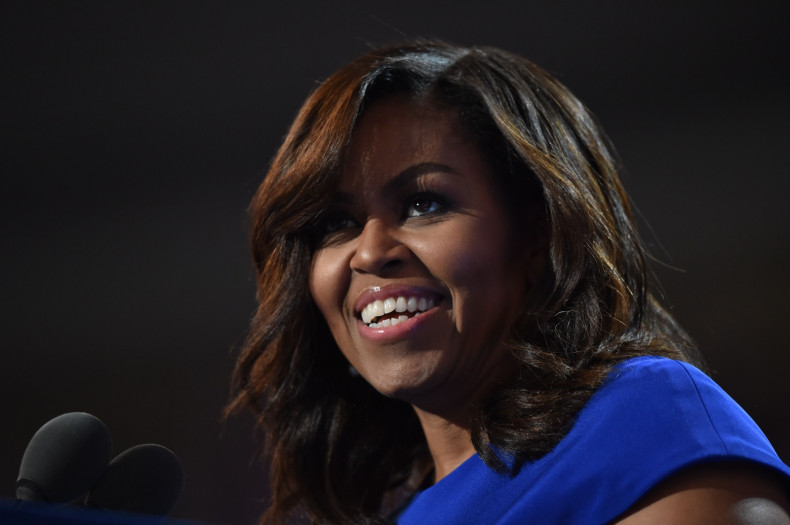 But circumstances change. Political stars rule out high office all the time – normally because it would create too much of a fuss if they ruled it in. Down the road, they can, and do, change their minds. In any case, Malia is 18 and her sister is 15. As their mother said, it is "not easy" to be the daughters of a president in those formative teenage years. But by 2020, or, more likely, 2024, they will be young women in their 20s, with the freedom not to live at home in the White House again. Chelsea Clinton has been able to be a part of her mother's election campaign while maintain her own life.
Michelle Obama herself is only 52, 16 years younger than Clinton, who has not been short of stamina on her own campaign trail. While even Clinton's supporters would admit the Democratic candidate has struggled to win over many people because of her own personal baggage – whether it's her husband's controversies in the White House or her own – Obama is coming to the end of her eight-year term as First Lady with no such luggage. Yes, there would be some criticism of another White House family trying to impose a dynastic grip on power. But if Michelle Obama herself would make a fine candidate for president, why should her background as First Lady hold her back?
She has set up initiatives on girls' education and on combating obesity. Crucially, she has made clear she intends to remain in public view, using her voice to campaign on issues close to her heart. In March, Obama said: "I want to be able to impact as many people as possible in an unbiased way to try to keep reaching people. I think I can do that just as well by not being president of the United States." After her speech in New Hampshire, there are many Democrats – and admirers across the world - who will be wishing she will one day become just that.
---
Jane Merrick is a freelance journalist and former political editor of The Independent on Sunday. She writes an allotment blog, www.heroutdoors.uk. Follow : @janemerrick23
---