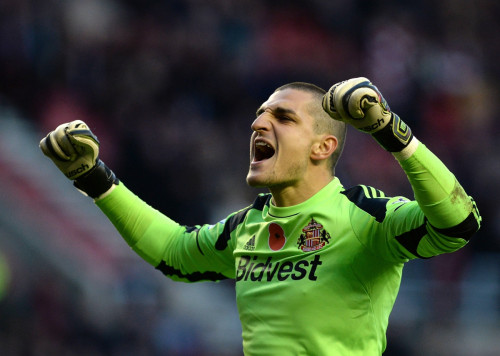 Vito Mannone has claimed that he is not interested in a move to Manchester United with the former Arsenal keeper hoping to beat the side to the Capital One Cup final with Sunderland.
Mannone made the move from the Gunners to the club that would eventually be Gus Poyet's in the summer of 2013 as a replacement for the outgoing Simon Mignolet.
He has so far made 18 impressive appearances for the north east club but hasn't yet done enough to help them out of the relegation zone, with his former teammate Wojciech Szczesny excelling for Arsenal as the club mount their challenge for the title.
Sunderland have been struggling under incoming manager Poyet and Mannone has reportedly attracted attention from United who could be in the market for back up for David De Gea.
The Italian isn't interested in entertaining such rumours, however, arguing his attention attention is firmly on ensuring the Black Cats progress to the first cup final of the season.
"I don't really care about this stuff," he told Sky Sports. "It's stuff that happens outside of the football pitch. My concentration is on the football pitch and it was on this game.
"Now we have got another massive game. I am really living my best time right now at Sunderland and I don't see why I would move right now.
"I want to stay as first choice and I want my performances to improve. That's the only aim I have, apart from aiming to beat Manchester United.
"That's the only focus I have on Manchester United."
United face Sunderland in the second leg of the League Cup final on Wednesday night and the Black Cats will be mindful of David Moyes' squad desperately trying to claw back their dignity after losing 2-1 in the first meeting.
But Mannone believes that the tide is turning for Sunderland and the side are showing a new and more positive frame of mind on the pitch – a fact proven by the side having won three of their last four games across the board.
"We have changed our whole mentality," he explained. "Even when we are down, at least we compete.
"It's a great point. The way it started wasn't the best for us. The first half, each one of us didn't play at the standard, and against a good team like Southampton, you go down 2-0.
"At least then we came up again in full gear and we came back into the game and could even have won it, to be honest.
"We put pressure on them, as they did on us in the first half, and as you could see, a good team like Southampton was struggling with our pressure."