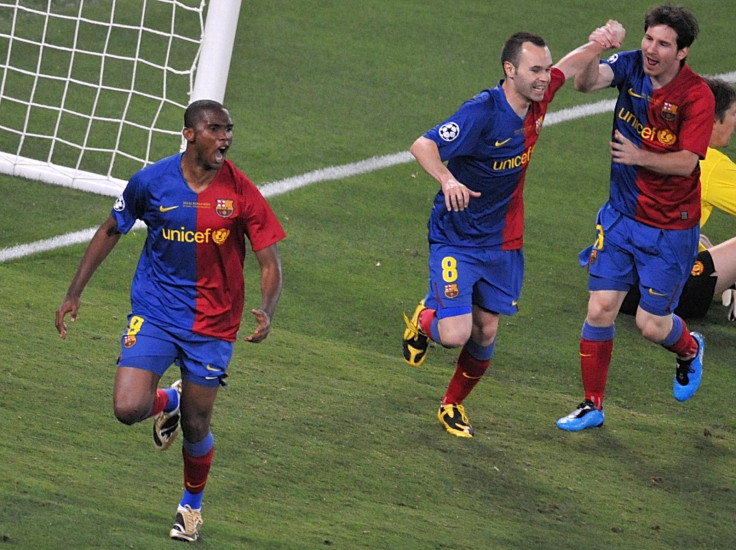 Spain's state prosecutor has requested a 10-and-a-half-year prison sentence for Samuel Eto'o for allegedly evading tax during his spell at Barcelona, according to El Pais. The former Real Madrid and Chelsea striker is reportedly accused of defrauding up to €3.5m (£3m, $3.7m) between 2006 and 2009.
Eto'o spent five seasons at the Nou Camp from 2004 to 2009, having moved to the La Liga giants from Mallorca after Barcelona agreed terms with archenemy Real Madrid, as Los Blancos owned 50% of his rights at the time.
The 35-year-old striker went on to continue his career at Inter Milan, Anzhi Makhachkala, Chelsea, Everton and Sampdoria, before joining Turkish outfit Antalyasporm, where he is currently plying his trade.
The Cameroonian international has been under investigation by the Spanish authorities since 2012 over tax fraud allegations relating to his last four years at the Nou Camp.
Now El Pais reports that Spain's state prosecutors are seeking a 10-year-and-a-half prison sentence for the Cameronian international and his former agent Josep Maria Mesalles, plus a fine of around €14m.
The report says that the Spanish tax agency understands that the former Barcelona and Chelsea star failed to pay income tax on earnings regarding his sponsorship deal with Puma by ceding his image rights to two different companies, one based in Spain and other in Hungary.
Lionel Messi, Javier Mascherano, Adriano and current Arsenal star Alexis Sanchez, who all play or have played for Barcelona in recent years, have also been involved in similar problems with the Spanish tax office in recent times.
But El Pais claims that Eto'o, unlike other players embroiled in similar problems, has not returned any of the alleged missing payments.
Messi was handed a 21-month prison sentence in July following alleged attempts to avoid €4.1m in tax on earnings, using off-shore companies located in Belize and Uruguay between 2007 and 2009.
Meanwhile, Mascheran also received a one-year prison sentence for a tax case. However, as with Messi, the former Liverpool star served no jail time due to Spanish statutes on non-violent crimes.