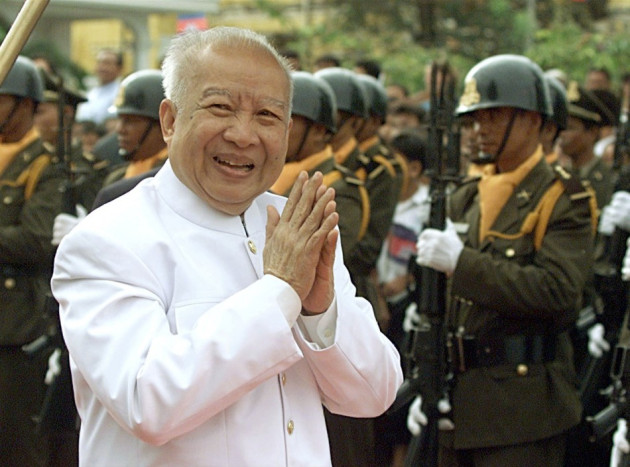 Former Cambodian king Norodom Sihanouk has passed away in the Chinese capital Beijing after a heart attack.
The 89-year-old had been battling poor health for the last few years.
Sihanouk who once pulled the country out of colonialism has been a prominent political figure in Cambodia's history.
"His death is a great loss to Cambodia. King Sihanouk did not belong to his family, he belonged to Cambodia and to history," said his relative Prince Sisowath Thomico.
Sihanouk's son King Norodom Sihamoni has flown to Beijing to receive the body of his father and will take it to Cambodia for an official funeral at Phnom Penh's Royal Palace. Sihamoni is being accompanied by Cambodian Prime Minister Hun Sen.
Top Chinese officials have expressed condolences over the death of the former monarch. The Chinese foreign ministry said Sihanouk was a great friend of the Chinese people.
Sihanouk, who ascended the throne in 1914, played the most pivotal role in winning independence for Cambodia from France in 1953.
Sihanouk has been accused of acting as a puppet in the hands of the Maoist Khmer Rouge regime, during which at least 1.8 million Cambodians were killed. He himself was later put behind bars by the Khmers.
Sihanouk was no more than a political prisoner after the Khmer Rouge started ruling the country in 1975. Sihanouk lost many of his own family members during the brutal Khmer rule.
As soon as the Vietnamese ousted the Khmer Rouge from Cambodia, Sihanouk also fled the country. His life in exile was spent mostly in the North Korean capital Pyongyang and Beijing, although he continued to wield influence over Cambodia.
He returned after 13 years to regain the crown in 1993. In 2004, due to deteriorating health, Sihanouk crowned his son and former ballet dancer Sihamoni as king.