Conor McGregor's ex-training partner, Artem Lobov, believes he has replaced the Irishman as the hardest-hitting featherweight in the Ultimate Fighting Championship. "The Notorious" dominated the 145lbs weight class before moving up to welterweight in 2015, winning 19 of his 21 fights with his final bout against Jose Aldo ending in a 13-second first-round knockout.
McGregor claimed the lightweight championship against Eddie Alvarez in November 2016 but has since stepped away from the sport; preferring to chase a boxing match with the unbeaten Floyd Mayweather Jr. The pair are currently locked in talks over a money-spinning clash but McGregor, 28, is yet to bow to the American's financial demands.
In McGregor's absence from mixed martial arts, the sport is crying out for an heir to his throne. The likes of Tyron Woodley and Nate Diaz have attempted to claim such a title, but Lobov believes he possesses the punching power to mirror McGregor's success and dominant the featherweight division – ahead of facing Cub Swanson at UFC Fight Night 108.
"I think against Cub I get it done," Lobov told The MMA Hour. "He comes in, he's very open, he throws wild shots, and he has never, I promise you, in his life felt power that I have. Even against Aldo, Aldo doesn't have that kind of power in his hands, no chance. What Aldo is good at is the leg kicks, that's what opened a lot of doors for him.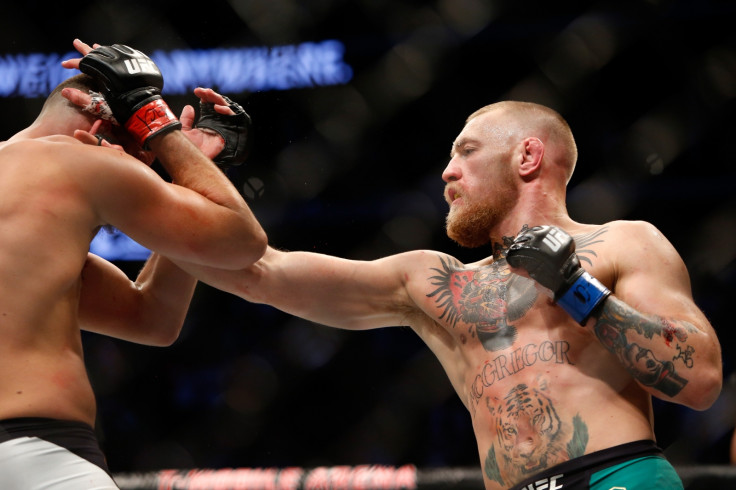 "He would land those leg kicks, and then the shot would come from there, but in terms of his hands, he doesn't have, I mean he has power, of course he does, but nowhere near the power that I have, I promise you that. Now that Conor is gone from the division, I'm the hardest hitter of the division by a long shot."
Though Russian Lobov resides in McGregor's home town of Dublin and has regularly been backed by the superstar, the pair share little in terms of fighting prowess. The 30-year-old has lost 12 of his 26 professional fights and is currently without a ranking as he searches for his first stoppage in the UFC.
But a meeting with veteran Chad Mendes, ranked fourth in the featherweight standings, could provide the platform from which his career could skyrocket. "I've said it before, me and Conor are very, very good friends, and he's certainly helped me get into the UFC, you know, it is what it is, it makes no difference," he added. "For me it's my biggest sporting achievement being Conor McGregor's sparring partner.
"I said this before, this is not an easy sport to be in, and many have tried to be in this sport and failed. I'm not in this sport because I'm good looking or whatever, I'm in this port because I'm the toughest mother f**ker around, you know. I have been for many years, so to me that's not offensive, I take pride in that, so it doesn't bother me at all."