Former French First Lady Claims President Hollande 'Kept Her Drugged in Psychiatric Hospital'
Valerie Trierweiler says Hollande told doctors to keep her out of the public eye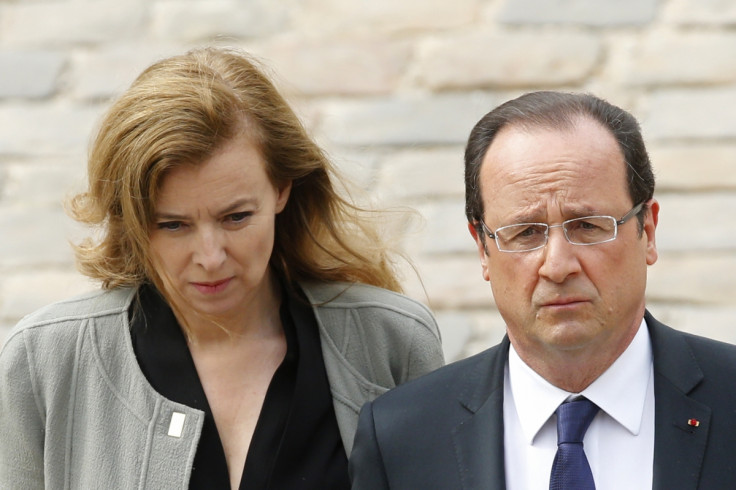 The former first lady of France has claimed that the French President Francois Hollande ordered doctors who treated her after an overdose to sedate her so she would not be able to attend to her official duties.
Valérie Trierweiler, 42, said doctors told her they were under orders from the Elysee Palace to keep her sedated while she was in a psychiatric hospital after taking an overdose of sleeping pills, to prevent her from joining Holland on a trip to his constituency town of Tulle, in central France.
In her first interview since her 10-year relationship with Hollande ended, after revelations of his affair with actress Julie Gayet, Trierweiler told The Times: "I found out afterwards. First, I saw that something was happening, since I was less and less able to stand up. I couldn't hold my fork anymore and my youngest son, who wanted to come and see me, wasn't allowed to.
"He sent out a tweet saying 'the doctors are preventing me from seeing my mother', and it was the doctor himself who told me the next day. He told me, 'They don't want you going to Tulle, so we increased the dose.'"
In another extraordinary claim, Trierweiler says Holland enlisted the French police and embassy staff to track her down while she was abroad and send flowers to her hotel room – several months after their relationship had ended.
She says the Hollande sent her flowers when she stayed in hotels on trips to Morocco and the US earlier this year. When asked how he found her, Trierweiler said: "It's the police, I think. It's asking the French embassy… in any case, he employed certain methods. He told me: 'I'll always know where to find you.'"
Ms Trierweiler has suffered a backlash from the French media since she published her memoir, Merci pour ce moment (Thanks for this moment), in September.
Despite being panned by literary critics and boycotted by bookshops, the book has been a bestseller. It sold 200,000 hardback copies in two days and sales are now at 700,000, which are said to have already earned Trierweiler €2m (£1.58m).
In her book Trierweiler speaks about being "completely swept away by feelings, by passion… not for one second do I think of the consequences, of the future, of what could happen later."
What happened later, according to Trierweiler, was a change in the man she had fallen in love with while covering his campaign trails as a political reporter for Paris Match magazine. After he was elected in 2012, Trierweiler says Hollande become moody and distant, and says in the interview: "Truly, I would not have fallen in love with the man I saw in the Elysee."
Trierweiler says she does not know how long it will take her to forgive Hollande for his betrayal. But she says she now empathises with Hollande's former partner and fellow Socialist Party politician Ségolène Royal, who Hollande was in a relationship with when Trierweiler begun her own affair with Hollande, saying: "Segolene Royal took seven years to forgive him. Maybe it'll take me less time."
Trierweiler on...
What attracted her to Francois Hollande
"All I can say is: he seduced me. And apparently I'm not the only one."
Writing her book
"I let me years do the writing. I began with the scenes that were the most painful for me. After that, it took me a long time to get going again and I wasn't sure I would be able to."
Her book being a bestseller
"It's important that it's a bestseller, but not for financial reasons. It's important because everyone who reads it says to me 'Now we understand what you've lived through; now we understand who you are.
What drove Hollande away
"I saw what wasn't working and I told him. No doubt I told him too often and that must have bored him."
What Hollande saw in Julie Gayet
"More lightness. Less criticism."
© Copyright IBTimes 2023. All rights reserved.