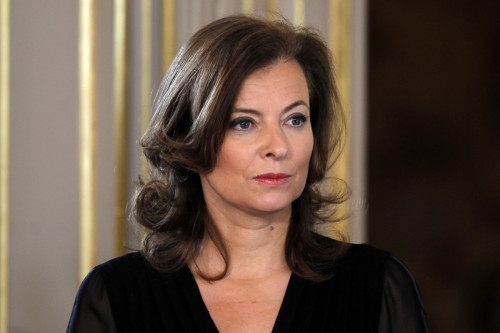 France's former first lady Valerie Trierweiler has jetted off to India on a charity trip, leaving behind the media furore over her split from the French President.
Trierweiler, 43, who insists she is still in love with President Francois Hollande, made it clear the trip was an important move to keep herself on the world stage within hours of Hollande confirming their split to the nation.
She left the official presidential home and discreetly boarded an Air France flight to Mumbai with an entourage including a friend, the actress Charlotte Valandrey.
Valandrey told BFMTV: "Trierweiler was very happy to leave for that mission to save children in India. She is a strong woman with a heart ... someone who can be counted on and who is engaged in a humanitarian cause."
The trip has been organised and partly funded by the charity Action Contre La Faim (Fight Against Hunger, ACF), and Trierweiler will stay at the five-star Taj Palace Hotel in Mumbai.
Many expect Trierwieler to use the trip to try and project herself as a Princess Diana-style 'queen of hearts', using her international fame to help the world's poor.
But there are fears within the Elysee Palace camp that Trierweiler, nicknamed Rottweiler, could turn and do a great deal of harm to Hollande.
The scorned 48-year-old is said to have smashed up antique furniture on hearing of Hollande's affair with actress Julie Gayet before she spent eight days in hospital suffering from stress and fatigue.
Trierweiler had been Hollande's partner for several years. An arts columnist for weekly magazine Paris Match, she was not married to Hollande but assumed the role of first lady at official functions following his election in May 2012.
The French presidency initially denied that a split would be announced on Saturday confirming the split.
A palace press officer told CNN: "It is a rumour that circulated on the internet today. There is absolutely no confirmation of the publication of a statement today."
But after Trierweiler refused to sign a legal agreement confirming the split, Hollande was forced, awkwardly, to announce it in a phone call to French news agency AFP.
He said: "I wish to make it known that I have ended my shared life (partnership) with Valerie Trierweiler."
Trierweiler is also thought to be behind reports in Le Parisien which contain 'a friend' saying: "What's sad for her, is not so much leaving the Elysee and all its decorum, but losing the man she loves."
Trierweiler sent a goodbye message on Saturday via Twitter to the staff at the presidential palace.
"All my gratitude goes to the extraordinary people at the Elysee. I will never forget the devotion or emotion at the time of leaving," she wrote.
However, an opinion poll published over the weekend confirmed that Trierweiler was by far the most unpopular first lady in the history of modern France.
Hollande is now expected to remain a 'bachelor president' while continuing his relationship with Gayet.
Meanwhile, the TV and French film actress is said to have held a party at her home in Paris to celebrate her two-year relationship with Hollande finally being made public.