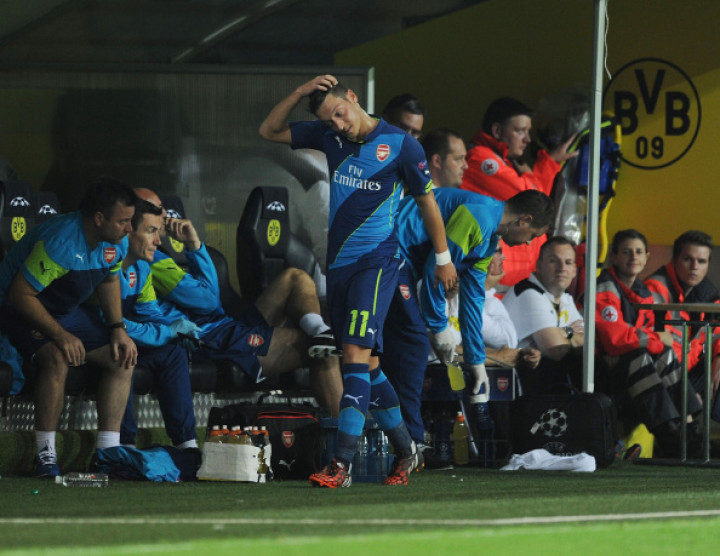 Former Liverpool midfielder Dietmar Hamann has questioned Mesut Ozil's future at Arsenal by claiming the World Cup-winning star does not look happy at the Emirates.
The German international was signed from Real Madrid for a club-record transfer fee of £42.5m last season. He had a brilliant start to his Arsenal career but suffered a dip in form at the end of the campaign.
Ozil has struggled so far this season and had poor performances during the Premier League clash against Manchester City and the Champions League defeat at the hands of Borussia Dortmund.
Hamann believes Gunners manager Arsene Wenger has to play Ozil in his preferred position –behind the striker – to get the best out of his compatriot.
"I don't know how Arsenal are going to sort him out. He's been there for a little while now. He doesn't look happy, I don't know what's wrong with the kid. He did very well for Germany at the World Cup," Hamann told talkSPORT.
"The only position he can play in England is behind the centre forward. It's a different game in England, it's more intense, faster and more physical.
"He doesn't seem to be able to handle that on a weekly basis, or every three or four days. That's what you have to do though if you're in the Champions League.
"If you buy a player for £42m, they can't play well every game but, when they don't play well, they're still going to be average.
"Against Borussia Dortmund, he got subbed after 60-odd minutes and you wouldn't have known he was on the pitch. There wasn't a single situation where you thought 'that was class'. There was nothing."
In April, Wenger backed Ozil to flourish this season. However, the 25-year-old has received criticism for his below-par performances so far in this campaign.
"The first season is the season in which you adapt and then you know what will happen and you go into it," Wenger was quoted as saying in April.
"And I believe that he will know better his partners, he will know better the league and the potential is absolutely fantastic. He will improve with goals and assists, and his presence in the game."