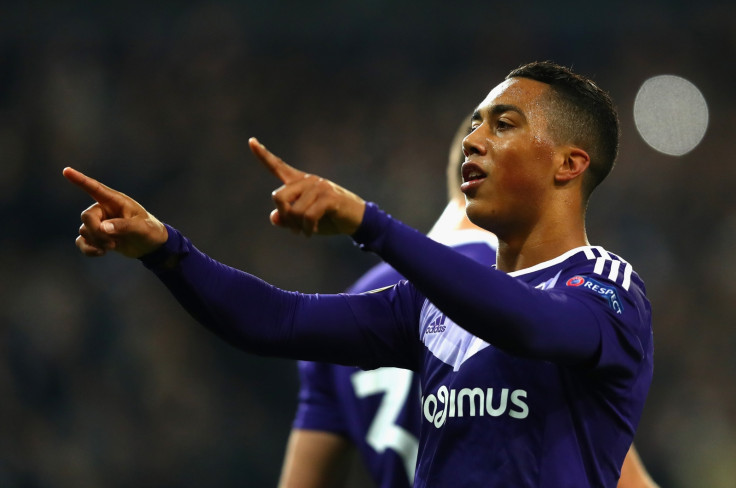 Anderlecht starlet Youri Tielemans have been urged to reject interest from Manchester United and join Arsenal. The 19-year-old has previously been approached personally by Jose Mourinho but has now be advised to turn his full attention to north London.
Tielemans is already being touted as the next rising star of Belgian football and, with 16 goals and nine assists this season, he appears destined to fulfil his potential. The teenager has himself stated he will take time before deciding his next move but it appears unlikely he will remain in the Jupiler Pro League for much longer.
The player's agent revealed in August that United boss Mourinho has personally been in touch regarding a move to Old Trafford, but now Tielemans has been instructed to look to a different side in the Premier League. Ex-Belgium international Nico Claesen believes Arsenal would be the best move for the midfielder, given their commitment to blooding young players.
"Succeeding in the Premier League is something different to excelling in Belgium," Nico Claesen, who played for Arsenal's rivals Tottenham Hotspur between 1986 and 1988, told Het Laatste Nieuws, according to The Evening Standard. "I think of efficiency in the adaptation, because he needs to work on. And can he compete? At Anderlecht, everything has always been relatively easy for him. In England he must start from scratch and learn to fight.
"I rather think a club like Arsenal, who haven't won many titles in recent years, but have a great look. Furthermore, the Gunners play in a way that Tielemans must: With a lot of technique and opportunities for youngsters".
Just six months ago, United appeared to be leading the pursuit for Tielemans after Mourinho made a direct approach to the player, calling him to confirm his interest. "Youri called me up recently and said: Lukasz, do you know who called me? Mourinho. He asked if how I'd take the possibility to move to Manchester United," representative Lukasz Plonowski told the Polish publication Weszlo.
While evidence of interest from Arsenal dates back several years, Tielemans was recently asked whether he would consider a move to Everton, a move which would see him link up with international colleague Romelu Lukaku. "It's what's best to progress step by step," Tielemans responded to Walfoot. "What Marc (Degryse) says, it's good to not burn steps and to avoid ending up on the bench and not getting game-time. It's what's best for every footballer, I think. I, however, don't have a preference league wise."