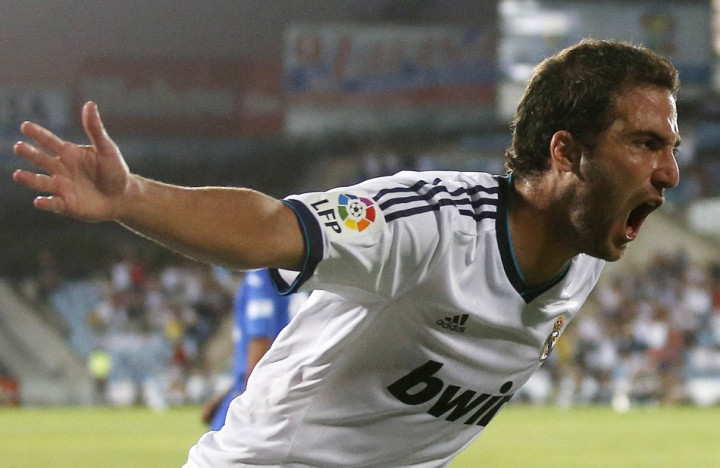 The Napoli striker Gonzalo Higuain has hinted at a summer move to Barcelona by admitting it would be "a great pleasure" for him to play with Lionel Messi at Barca.
The former Real Madrid man - who joined the Italian club from Real last season for €40m and scored over 100 league goals for Los Blancos since joining them in 2005 - has been linked with a move to the Camp Nou this summer.
According to Marca, the Argentine international is about to become a Barca player. The newspaper claims that the agreement with Higuain was a fact and the only thing missing was to close the deal with Napoli – and it could be finalised in the coming weeks.
Higuain - along with Borussia Dortmund's Marco Reus - has emerged as the Catalan club's second choice reinforcement for their front-line this summer, if a move for Manchester City's Sergio Aguero fails.
The Neapolitan club denied it straight away though, saying on its Twitter account: "The journalistic indiscretions according to which @G_Higuain could be transferred to @FCBarcelona lack any foundation."
However, regarding his possible move to Barcelona, Higuain admitted it would be "a great pleasure" to play in the same team as Leo Messi. The Napoli striker however refused to confirm whether he was close to signing for the club.
"The interest from Barcelona? It's nice, but it would make any player happy," said Higuain during his post-match press conference. "Now I think about the World Cup, we want to prove that we can win the Cup. I will talk some other time about my future."
The striker looked set to join Arsenal last summer after the player's father and agent told Fox Sports Latin America that a final resolution was close. "We managed to get permission from Real Madrid to negotiate face to face with Arsenal," he said. "Fortunately, I will soon be able to watch my son play in the Premier League." – However, the deal was hijacked by the Napoli club.
Higuain has had a great campaign for Rafa Benitez's side, scoring 17 goals in 32 league appearances.