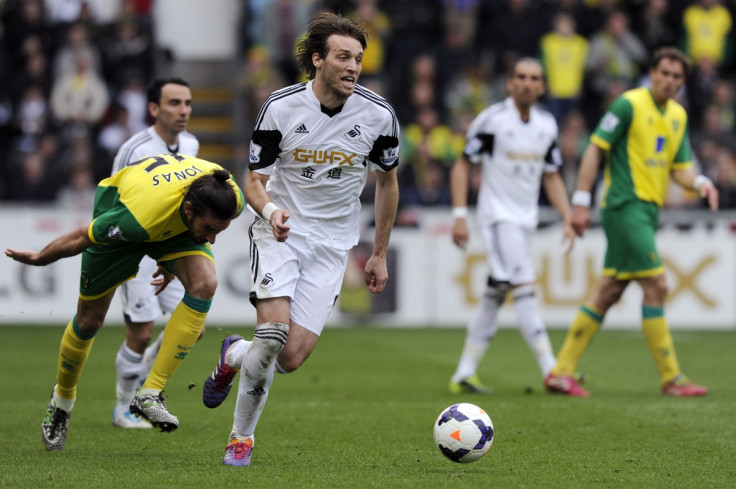 Former Premier League star Michu has completed a surprising move to Spanish fourth-tier club Union Popular Langreo after Swansea terminated his contract in November.
The 29-year-old has been training with the Asturian team since pre-season and has now reached an agreement to join them as a free agent once the transfer window reopens on 4 January.
"Union Popular Langreo have reached an agreement to secure the services of striker Miguel Perez Cuesta 'Michu,' the club confirmed through an official statement. "The player from Oviedo will join Langreo as a free agent from Swansea City once the transfer window opens."
"The 29-year-old Spanish international, has been training with the club since the pre-season, with the permission of his former club, under the management of Hernán (Perez) and from January 4 (date when the winter market opens ) will be ready to play in official competition."
Michu had a sensational debut 2012-2013 campaign in English football following his arrival from Rayo Vallecano, scoring 22 goals in all competitions, earning a call-up for Spain and being named Swansea City's player of the year as Michael Laudrup's team won the League Cup.
Liverpool and especially Arsenal were heavily linked with a £25m ($37.2m) move to secure his services that summer but instead he opted to continue his career at the Welsh side. He then suffered recurrent problems with his ankle, and the departure of Laudrup in the middle of the following season didn't help him.
After scoring just six goals for Swansea in his second campaign in the Premier League, he was sent on loan to Napoli to revive his career but eventually just made five appearances under Rafa Benitez during the whole campaign.
Swansea manager Garry Monk told him in the summer of 2015 that he did not have a place in his plans for the current season but, despite having being one of the most sought-after forwards just two years before, he failed to find a new team.
Some reports suggested then that the striker was considering to give up and retire but instead he returned to his homeland to train under the management of his brother Hernan Perez at Langreo, a small club sitting in third place of the Spanish fourth division.
Swansea last month agreed to part ways with him by mutual consent despite having contract until the summer and now Langreo have confirmed that his return to his homeland official.