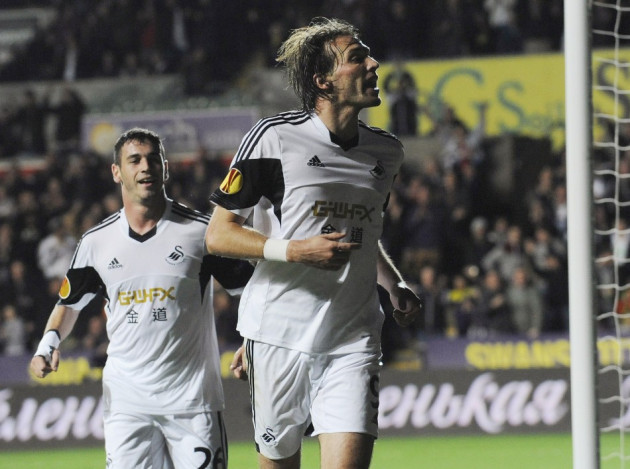 Swansea striker Michu reveals that he is happy at Michael Ladrup's side but at the same time he would love to develop and play for one of the big clubs.
After a wonderful first campaign in the Premier League, Michu has struggled at the start of this season. He has scored just two goals in 11 Premier League games after netting 18 in his debut campaign.
He hopes to recover his peak form soon and in an interview with Spanish newspaper Marca he speaks about his targets, his dreams and his future.
"Every player dreams about playing in big teams; clubs that play in the Champions League and fight for titles and I am no different" Michu said.
"But it is true that I feel very good here, the boss gives me a lot of confidence and I'm surrounded by Spaniards. I am very pleased and very happy at Swansea but it is obvious that every player wants to grow up and see how far you can go."
Asking about if he would rather go back to La Liga or stay in England he said: "Right now I'm happy abroad. I really like the Premier League, I'm happy here. Furthermore, last year I had the fortune to score many goals. I 'm happy when I play and for that I need the confidence of the coach. With Michael Laudrup I've had it since I arrived."
The 27-year-old striker has recently returned to action after five weeks out with an injury and although he played against Hull last weekend he admits that he still has to improve.
"I'm still not 100%. These setbacks frustrate me, the worst thing that can happen to a player is being injured. I have to try to help the team from now on."
Michu also revealed the secret about Swansea's recent success.
"This team plays at the same way at Old Trafford as against the bottom teams. Swansea always try to play well, having the possession and creating more chances than the opponents. However, it is difficult to fight against the top seven teams because they are ahead of the rest in budget and in squad."
Swansea recently reached the knockout stages of the Europa League, despite ending their group campaign with a defeat against St Gallen. Michu is cautious about their chances in the competition but he believes that the Welsh supporters can retain hope for the knockout stages.
"It is going to be tough, we have to wait for Monday's draw. We have already qualified in a pretty tough group so why not keep dreaming? The dream continues."