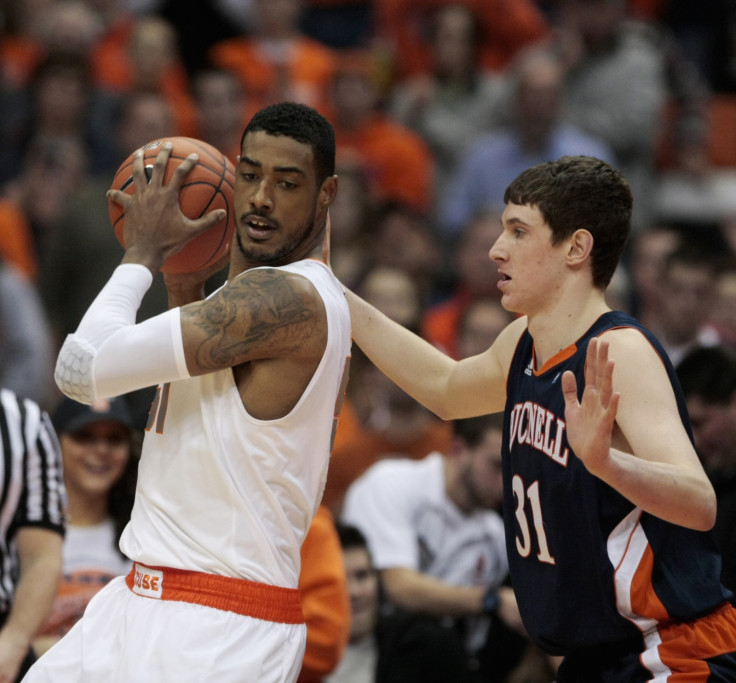 Former Syracuse and Boston Celtics center Fab Melo was found dead in his home in Brazil on Saturday (11 February). He was 26 years old.
According to The Washington Post, the former NBA player, who lived with his mother and two sisters, died in his sleep. However, the official cause of his death is not known as yet.
"He was a really good kid, and it's not fair that he will be defined by one thing: a 10-page paper," Syracuse coach Jim Boeheim told ESPN, referencing to Melo's suspension in the 2011-2012 season due to academics. "He worked his tail off to become a really good player and was a nice kid. It's so hard right now, so hard to believe. It's a sad, sad day."
"Sad day for Cuse. My brother Fab Melo passed away. I still can't believe the news. My condolences goes out to his family. Such a great guy," former Syracuse teammate CJ Fair wrote on Twitter.
Melo shot to fame during his two seasons with Syracuse in 2010-12. However, at the time he was not allowed to participate in the 2012 NCAA tournament due to academic reasons. During his time with the Orange, Melo averaged 4.9 points, 3.8 rebounds while shooting 57.6% from the field per game in 63 games. Despite the drama, Melo was still named the big east defensive player of the year for his sophomore season.
Melo participated in the 2012 NBA draft as he forgo in his junior and senior years at Syracuse. He was drafted by Boston Celtics with the 22nd overall pick. However, his NBA career never kicked off as he only played six games for the Celtics and spent most of his time on D-League squads until 2014, when he began playing abroad, mainly in Brazil.
In 2014, he first signed with a Brazilian team, Club Athletico Paulistano.
This season Melo had played for Uniceub-BRB-Brasilia.