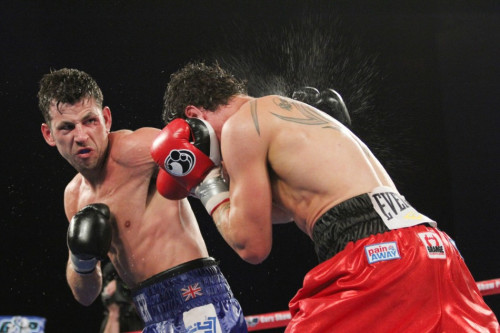 Former IBF middleweight champion Darren Barker has announced his retirement from boxing at the age of 31.
The Londoner added a world title to his British, European and Commonwealth triumphs when he defeated Daniel Geale in Atlantic City in August last year.
But in defending the belt against Felix Sturm in Stuttgart last December Barker suffered a serious hip injury that felled him twice during his second round stoppage defeat.
It was the latest in a series of injuries that have dogged the 31-year-old in recent years and as a result Barker has decided to bow out of the sport, dedicating his success to his family, friends, fans and his brother Paul who died in 2006.
"I'm so proud and happy at what I've achieved when I won my first national title as a kid I could have retired a happy boy then so to have won all the major titles possible for me I'm a very, very happy man," Barker said.
"I did this all for my brother Gary – we did it mate! I'm now looking forward to sitting back and being a keen fan and wishing all my fellow countrymen all the best in their careers.
"I would like to thank my family for their support, without them none of what I achieved would have been possible. My fantastic friends and all the fans that brought tickets to my fights and travelled the country and world supporting me I really appreciate it and thank you.
"Tony Sims – he constantly got the best out of me and he's more than a fantastic trainer, he's a mentor and very good friend. Eddie Hearn and the rest of the guys at Matchroom Sport for getting me the big fights and elevating me to another level and ultimately getting me the fight that helped me realising a dream and I've also met some friends for life there."
The Barnet-born fighter finishes his time in the ring with an impressive record of 26 wins – 16 by KO and just two losses.