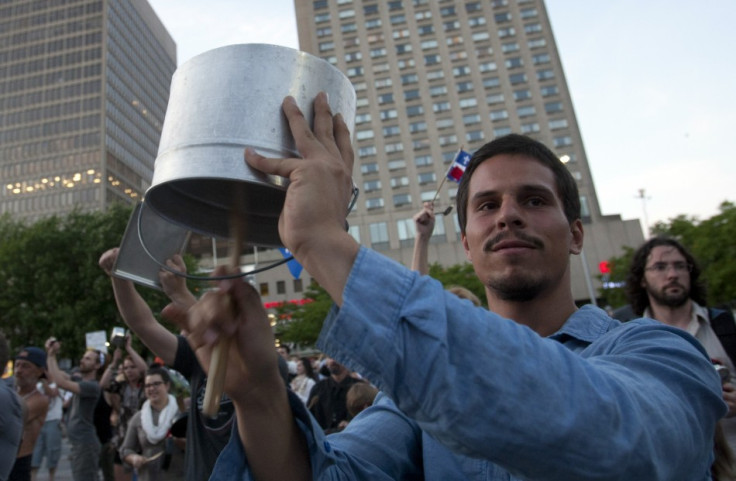 Canadian riot police beat back protesters and arrested dozens as students protesting for months over the increase in tuition fees tried to disrupt the Formula One Grand Prix in Montreal.
About 30 people were arrested in a pre-emptive effort to clamp down on the protests. A further six were charged with offences including intimidation and threats to police.
The most radical student groups have threatened to disrupt subway lines and block the bridges leading to the Grand Prix site. Their spokespeople called the event "sexist, elitist and polluting."
The organisers had to cancel the popular "open house" event before the race, which allows people to visit the pit lane, look at the cars and get autographs from the drivers. Ticket sales did not go as well as expected.
"We are in a real social crisis in Quebec. And at the moment we are witnessing police brutality," University of Montreal student Zac Daoust Lefebvre told AFP.
Student groups hoped to take advantage of the international media presence in Montreal to publicise their tuition fees fight. But they faced an intensified police presence.
"We can't reach the site if we have pink hair and no ticket," Melopee Montminy, a student representative, said. Pink hair is the emblematic colour of the movement.
"I was escorted [out] by several policemen. It was frightening. They're traumatising people who had no intention of raising hell. I wanted to protest peacefully but now I want to raise hell."
After recent hopes that a deal between student groups and the Quebec government could be reached, negotiations have stalled.
What began as a localised protest over increased tuition fees has mushroomed and the Montreal sit-in has become a landmark struggle over the freedom to assemble and the right to protest.
The campaign against higher tuition fees began in March 2011, when Quebec's finance minister, Raymond Bachand, announced that the government would increase tuition fees by £203 a year for five years.
In August, student groups decided to take a stand against the government's move, as fees in Quebec are notoriously lower than in any other Canadian province.
They managed to gather 30,000 people in November to rally against the planned increases. By February, they went on strike.
Until then, the issue was between the government and the student groups. Most Canadians seemed to agree with the rise.
But when the government tried introducing its controversial Bill 78, which dramatically restricts civil rights by outlawing spontaneous demonstrations of more than 50 people, more local residents rallied to the cause.
Students are now required to submit an application eight hours in advance of a rally and provide the police with an itinerary of the events that are planned to take place.
Bill 78, which aimed to crack down on student protests, was approved on 18 May. Under it, university academic terms have been suspended until August. so no summer classes will take place in the province.
The day after the bill was passed, many Montreal residents joined the students in what have become known as "casserole protests", in which pots and pans are banged on streets and balconies.