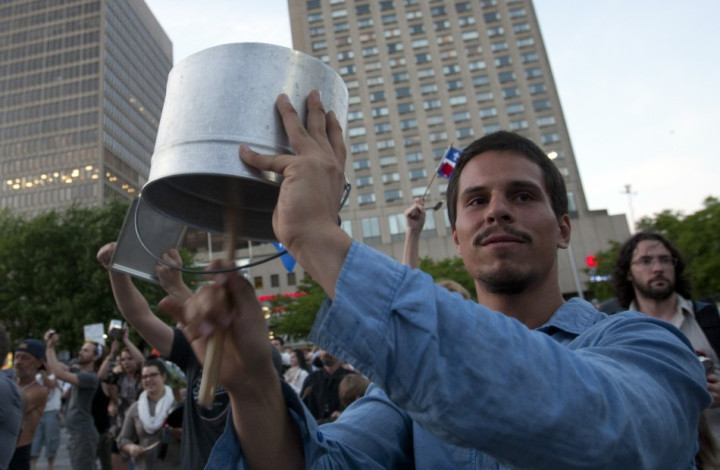 The government of Quebec is working on a student proposal to end a 14-month standoff that has gripped the province over the increase in tuition fees.
What began as a localised protest has now mushroomed and the Montreal sit-in has become a landmark struggle over the freedom to assemble and the right to protest.
Education minister Michelle Courchesne is due to examine the latest proposal put forward by student groups to reduce a planned tuition increase, which is at the core of the dispute.
"There were exchanges of offers, like ping-pong, throughout the day. That ended with our last offer and we wait for the reaction," said Gabriel Nadeau-Dubois, co-spokesman for the student group Classe.
The campaign against higher tuition fees began in March 2011, when Quebec's finance minister, Raymond Bachand, announced that the government would increase tuition fees by £203 a year for five years.
In August, student groups decided to take a stand against the government's move, as fees in Quebec are notoriously lower than in any other Canadian province.
They managed to gather 30,000 people in November to rally against the planned increases. By February, they went on strike.
Until then, the issue was between the government and the student groups, as most Canadians seemed to agree with the rise in tuition fees.
But the government attempted to take an easy way out of the crisis by introducing the controversial Bill 78, which dramatically restricts civil rights by outlawing spontaneous demonstrations of more than 50 people.
Students are now required to submit an application eight hours in advance of a rally and provide the police with an itinerary of the events that are planned to take place.
Bill 78, which aimed to crack down on student protests, was approved on 18 May. Under it, university academic terms have been suspended until August. so no summer classes will take place in the province.
The day after the bill was passed, many Montreal residents joined the students in what have become known as casserole protests, in which pots and pans are banged on streets and balconies.
The police arrested more than 700 people in Quebec, 517 of which were in Montreal.
Clashes continue to erupt periodically in the city, where 165,000 students have skipped classes since February.
The student movement has received support from the Occupy Wall Street movement, which demonstrated in New York City with signs that said: "From Quebec to Mexico, the same road to austerity."
The latest round of talks between Courchesne and student leaders have been called a "last chance" to resolve the conflict before summer festivals and other major tourist draws begin.
The Canadian Broadcasting Corporation reported that more than 120 people who purchased tickets to the upcoming Formula One Montreal Grand Prix have had their personal details posted online.
The Anonymous hacking collective was suspected of being behind the breach in privacy, after having urged racegoers to boycott the Grand Prix and threatened to take down Formula One websites in protest against Bill 78.
"It seems that Bernie Ecclestone has not learned anything from his experience in Bahrain," a statement by Anonymous said. "In this case, he now intends to run his race in Montreal, which just recently passed 'Special Law 78' - universally condemned by human rights watchers around the world as tyrannical, draconian - and leaving Quebec in clear violation of its basic human rights obligations."
The collective has announced that it will take all F1 websites offline on 7 June, dump the servers and databases and "wreck anything else F1 related we can find on the internet".
The Montreal Grand Prix is due to go ahead from 7-10 June.