The 2013 Formula One Malaysian Grand Prix is set for an exciting qualifying race, after Kimi Raikkonen finished the second practice session on top of the timesheets. The Lotus' driver, who triumphed at the season-opening Australian GP last week, set the pace on a rain-hit Sepang International Circuit, while Red Bull's defending champion Sebastian Vettel finished second and Ferrari's Felipe Massa ended third.
Where to Watch Practice 3 and Qualifying Live
The third practice will start at 5am GMT on Saturday, while the qualifying race begins at 8am GMT. Live coverage of both events are available on Sky Sports F1 HD. In addition, free and live updates can be found via the Live Timing section on the sport's official website.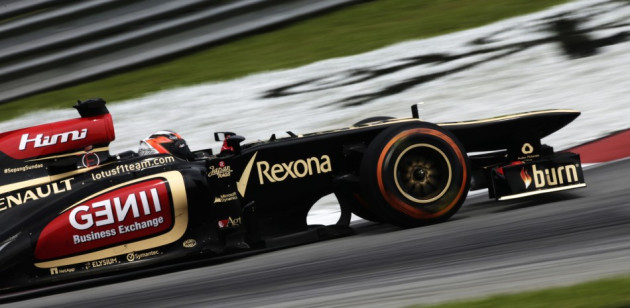 Practice 2 Review
Raikkonen clocked 1:36.569 to come out on top in the rain-hit second practice. The Finn edged out Vettel (1:36.588) by 0.019s and Massa (1:36.661) by 0.92s. Ferrari's Fernando Alonso (1:36.985) and Red Bull's Mark Webber (1:37.026) completed the top five times.
Raikkonen's Lotus team-mate Romain Grosjean was the sixth fastest. Meanwhile, Mercedes duo Nico Rosberg and Lewis Hamilton, Force India stars Paul di Resta and Adrian Sutil and McLaren pair Sergio Perez and Jenson Button also made in to the top 12 times.
Heavy rain affected the session from around the halfway mark, till all drivers returned to the pits with just 35 minutes of the 90-minute session remaining. The rain receded after some time and the drivers were back on treaded intermediate tyres before using slicks for the closing minutes.
Top Ten Times (Practice 2)
1. Kimi Raikkonen (Lotus) 1:36.569
2. Sebastian Vettel (Red Bull) 1:36.588
3. Felipe Massa (Ferrari) 1:36.661
4. Fernando Alonso (Ferrari) 1:36.985
5. Mark Webber (Red Bull) 1:37.026
6. Romain Grosjean (Lotus) 1:37.206
7. Nico Rosberg (Mercedes) 1:37.448
8. Paul di Resta (Force India) 1:37.571
9. Lewis Hamilton (Mercedes) 1:37.574
10. Adrian Sutil (Force India) 1:37.788
For more times, click here.
Raikkonen looked in impressive form throughout the day as he was second in the first practice session. Webber had secured the fastest time in Practice 1, clocking 1:36.935, ahead of both Raikkonen (1:37.003) and Vettel (1:37.104).