Mercedes' Nico Rosberg produced a sensational performance in qualifying for the 2013 Formula 1 Spanish Grand Prix, with a stunning 1:20.718 to beat team-mate Lewis Hamilton's 1:20.972. Championship leader Sebastian Vettel took his Red Bull to third on the grid, with 1:21.054.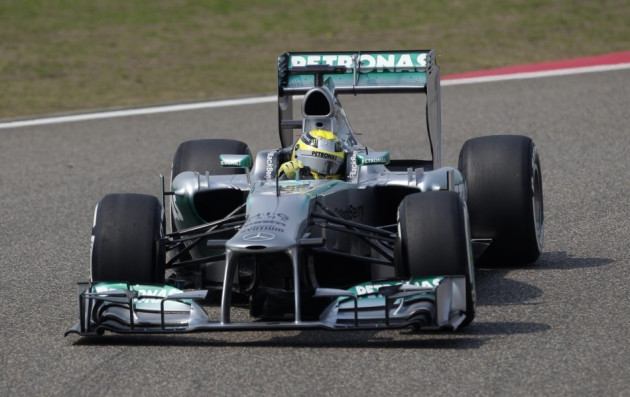 The Ferraris of Fernando Alonso and Felipe Massa were impressive all through the three practice sessions, but the duo failed to re-create that magic in qualifying. Alonso will start fifth on the grid for his home race, with 1:21.218 and Massa will start sixth; the Brazilian, however, continued the trend of incredibly close times this weekend, with his qualifying pace only one-thousandth of second slower than Alonso.
Lotus-Renault's Kimi Raikkonen and Romain Grosjean showed glimpses of speed in practice and the Finn made it to fourth with 1:21.177. Grosjean will start behind the two Ferraris in seventh, with 1:21.308.
Vettel's Red Bull team-mate Mark Webber will be disappointed with his time. The Australian recorded 1:21.570 and will start eighth. There was good news for McLaren though, with youngster Sergio Perez taking ninth ahead of Force India's Paul di Resta. Further down the grid, Jenson Button could manage only 14th, with a best time that was nearly two seconds off the pole position.
Session Review
Qualifying threw up one major surprise - the speed of the Mercedes cars. All through Friday and the Saturday morning session, both Rosberg and Hamilton appeared to be well off the pace, with the latter's 1:22.740 the fastest time. Come qualifying though and both drivers smashed that time in Q1 alone, with Rosberg's 1:21.913 the slower of the two. In fact, the two Mercedes cars remained comfortably clear of their challengers all through the session and they were the only team able to lap under 1:21.000.
Ferrari should have been much stronger than they were in qualifying and it remains to be seen if the Italians have a problem or are running a tactical race and will start with heavier fuel loads. By that logic, are Mercedes running lighter cars?
The Pirelli medium tyres proved to have a clear advantage in time, with drivers lapping up to a second faster on the white-marked rubber. However, as some of them noted on Saturday, tyre wear could be an issue during the race and the medium compounds appear to sacrifice durability for speed. Expect drivers on the medium compounds to have to stop within the first 10-12 laps of the race or, at most, by Lap 15.
Finally, Vettel will be disappointed at missing pole but the German will know the Mercedes cars simply had far more pace. He will, however, be pleased that both his direct championship rivals, Alonso and Raikkonen, are behind him on the grid.