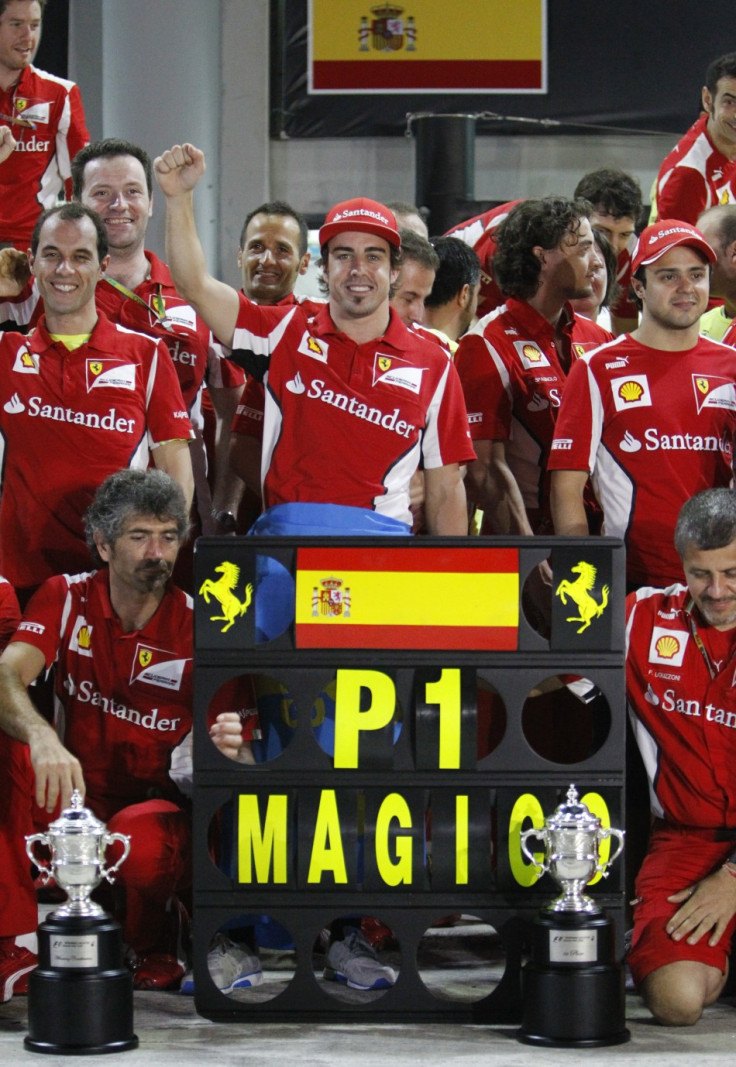 Ferrari driver Fernando Alonso continued to demonstrate the marquee Italian brand's determination to turn a struggling season around and the Spaniard, not for the first time this season, mastered tricky weather conditions with the Ferrari team making all the right calls from off-stage to hand the former double world champion his second pole position of the season.
The 2012 Formula 1 World Championship has been an exciting one for the neutrals but a difficult beast for teams and drivers to master. The season started with seven different drivers winning the seven opening races and a drivers' championship race, the lead changing hands almost every other weekend, which was as open as any we've seen in recent years.
The tide began to turn at Valencia, the scene of the European Grand Prix, where Alonso broke the chain of different winners to record his second race victory of the season. That was followed by a superb drive to second at Silverstone, in the British Grand Prix, and helped by the slowly improving Felipe Massa, the Ferrari team is now back in contention for both titles.
Going into Sunday's race at the Hockenheimring, Alonso leads the drivers' title race with 129 points to Red Bull's Mark Webber's 116, with defending champion (and Webber's team mate) Sebastian Vettel in third on 100 points. In the constructors' race, Red Bull retains a healthy lead, with 216 points. Ferrari's improved showing means it has now moved up to second, with 152 points. Lotus-Renault is enjoying a superb season and is third with 144.
Qualifying Recap
Ferrari's Fernando Alonso is firmly established as the man to beat at the Hockenheimring, aftertheSpaniard eased to an ultimately comfortable pole position in Saturday's session. Alonso lapped in 1:40.621, 0.405s ahead of Red Bull's Sebastian Vettel and a staggering 0.875s ahead of Vettel's team mate, Webber. Unfortunately for the Australian, he has been handed a five-place grid penalty (for an unscheduled gearbox change), meaning he will now start eighth. Other drivers to suffer penalties are Lotus's Romain Grosjean (qualified 15th, will start 19th), Mercedes' Nico Rosberg (qualified 17th, will start 21st) and Sauber's Sergio Perez (qualified 12th, will start 17th).
The weather at Hockenheim has been dismal, gloomy and grey ever since practice began on Friday and the qualifying session was no different. Weather forecasts on Saturday morning indicated that while rain was expected it was not supposed to arrive until after 4 pm (local time), when the day's action should have been completed. Unfortunately, no one told the weather gods, and the heavens opened midway during Q2 in the qualifying session. The rain lasted all through the session and it required all teams to think fast and act faster. The margin for error was more unforgiving than ever. Ferrari tends to excel in these situations (remember the Malaysian Grand Prix earlier this year?) and so it was again. The decision to bring Alonso in for a fresh set of extreme wet weather Pirellis, late in Q3, paid off handsomely and the Spaniard was simply uncatchable in the session.
Much of the talk before the weekend began revolved around the fact that the Hockenheimring normally penalises cars that lack straight-line speed and the F2012 could potentially suffer. However, after having seen Alonso dominate the third Free Practice (FP3) session - the only dry one so far this weekend - and a fully wet qualifying, Ferrari must be quietly confident of its race hopes.
Meanwhile, behind Alonso, Vettel was left a little disappointed after the qualifying session and although he admitted he could maybe have caught Alonso but for a few mistakes, Ferrari's decision to switch to fresh wet weather tyres was the right way to go. The Red Bull is not necessarily the fastest car in the wet but should it be a dry race, at least in parts, Vettel will be confident of pushing Alonso a little bit harder. There was some bad news for the team, though. Webber was forced into a gearbox change, meaning his best Q3 time of 1:41.496 aside, he will start from eighth on the grid.
Mercedes' veteran seven-time world champion Michael Schumacher was in his element, literally and figuratively. The man who has been described as the rain-master was near flawless in the conditions, pushing his car as fast it could possibly go. He qualified fourth (but will start third) with a time of 1:42.459. However, like Red Bull, good news for one driver was bad for another. Schumacher's team mate, Nico Rosberg, was also forced into a gearbox change. In any case, though, Rosberg struggled all through qualifying, managing only 17th fastest.
The McLarens of Lewis Hamilton and Jenson Button were left relatively satisfied after qualifying. The pair qualified seventh (Button; 1:44.113) and eighth (Hamilton; 1:44.186) but will start one slot higher than on Sunday. The Woking-based team confirmed it would bring "significant upgrades" to the MP4-27 this weekend and the car has, times suggest, benefited. The duo were top of the timesheets in the first Free Practice (FP1) session on Friday and have been there or thereabouts since. Again, as with Red Bull, if the race on Sunday is a dry one, expect both Button and Hamilton to come charging up the order. The only dry session we've had so far this weekend suggests the cars are very evenly balanced in those conditions.
Other notable qualifying results included an excellent performance by Force India's Nico Hulkenberg. The German will start his home race in fourth place on the grid (qualified fifth) and his team mate, Paul di Resta, will be ninth. The Lotus drivers will be disappointed after a qualifying session that left one on the tail of the top ten and the other all the way down in 20th. Raikkonen was fastest in Q1 but, as did so many other drivers, struggled when the rains came, eventually finishing 10th. Grosjean, meanwhile, also had gearbox problems, meaning he starts 20th after his penalty.
Race Preview
There is just one question on everybody's lips - will it rain? The answer is, probably not. But it wasn't supposed to rain during qualifying on Saturday either.
Weather forecasts indicate there is, at most, a 20 percent chance of rain through the morning and unlike Saturday the chance of rain lessens as the day wears on; that 20 percent drops to 10 percent after 4pm. The skies will remain reasonably clear and sunny, although we have been told to expect cloud cover later in the day. Expect temperatures to reach a high of 21 degrees Celsius, sometime early in the evening. Humidity will be at approximately 57 percent and there will be a steady 5km/h North North East wind, as there has been all weekend long.
All this means Red Bull, McLaren and Lotus will be delighted... Ferrari less so.
The Italian team's biggest asset so far this weekend has been the ability to monitor changing weather and react quicker and more decisively than its rivals. If the forecasts are right, changeable weather will not be a factor in Sunday's race and the emphasis will return squarely to mechanical grip and efficiency. As we mentioned earlier, the Hockenheimring is a high-speed circuit and the Ferrari is not usually at its best in such cases, However, as Alonso's race engineer Andrea Stella has pointed out, where the Ferrari loses out in top speed, it gains in traction for medium and low-speed corners and, like Silverstone, the infield stadium section at the Hockenheimring will be where the Ferrari will look to make ground and, if necessary, defend position.
Where to Watch Live
You can follow all the action live, from 11.30am BST to 4.15pm BST on Sky Sports F1 HD. Live text and audio commentary will be available on the BBC Sport website and BBC Radio 5 Live. You can also follow the race live and get real-time information and feeds at the Formula One website.