Forza 4 has today staked its claim as the must-have racing game, with a new trailer featuring Jeremy Clarkson addressing all petrolheads, describing them as an endangered species.
The Xbox-exclusive is due out in the UK on October 14, and will take the fight to Gran Turismo 5, after the Sony exclusive failed to meet some expectations last November.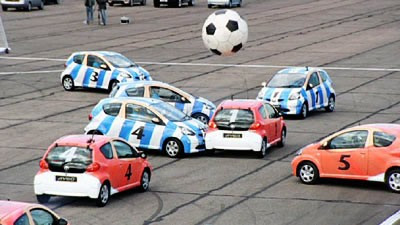 Using real-life footage of a man trapped in city centre traffic, Clarkson addresses fellow car enthusiasts: "We're an endangered species, you and I; we lovers of speed; we devotees of power, performance and noise. Go away, we are told, and take your carbon fibre and your fire-spitting V12s with you. There's hardly a place out here for us anymore."
The trailer - which doesn't show any gameplay - tracks the lone man as he walks through traffic until he finds an Aston Martin DB9, which he takes for a joy ride.
"There is a safe haven," Clarkson continues. "A place where we can drive our beautiful machines...it's not a racetrack in Germany, it's not even a race place actually...and it's right there, in your living room."
The script is typically Clarkson and typically TopGear, giving hope that the inclusion of the popular BBC show will bring a new dynamic to the Forza franchise.
Turn 10 Studios has already announced that Forza 4 will include car football, pioneered by TopGear on the TV show, as well as car bowling, and of course the test track.
A range of cars featured in the series, such as the Suzuki Liana and Kia Cee'd - two of the 'reasonably priced cars' - are also included.
The TopGear test track was featured in Gran Turismo 5, but required the completion of an unreasonably-difficult challenge involving VW camper vans to unlock it for general use; hardly in the keeping with the TopGear mentality of messing around and having fun.
A demo of Forza 4 was made available to download from the Xbox Live Marketplace yesterday, October 3.