Four-time world champion Carl Froch announces retirement from boxing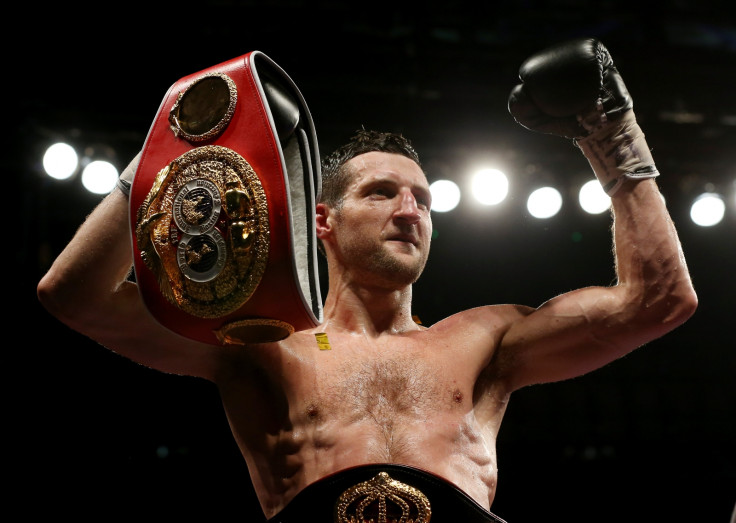 Four-time world super middleweight champion Carl Froch has announced his retirement from boxing.
Froch, 38, hangs up his gloves after a glittering career having won 33 of his 35 professional bouts, 24 of those coming back knock out.
His last bout came in May 2014 when he defended his WBA and IBF titles against George Groves, knocking out the challenger in front of 80,000 people in one of the year's iconic sporting moments.
'The Cobra' will now move into punditry on a full-time basis with Sky Sports.
"Making the decision to retire and saying 'it's been a year, it's too long, the fighting machine has gone, it's not going to come back', it's still hard," Froch said.
"The last thing I think about before my head hits the pillow is boxing, and when I wake up in the morning to think what time it is, and I think it's half six, seven o'clock, should I be going for a run, where's my trainers – it's a lifestyle, a way of life, and it's a mindset. I'll always have that and I think I'll always be itching for the big fight.
"There's no greater feeling for me than standing victorious in the arena and I'm never going to get that again now, and I don't know where I'm going to get that feeling from.
"I don't know where it's going to come; maybe it's not. That's what I'm turning my back on and that's what's going to be difficult to do, but there comes a time in every man's career where he's got to say: 'That's it, enough's enough.'
"I feel civilised now. I feel like Carl Froch the fighting machine is still in there – the fire is still in the belly – but it's been too long.
"I just feel like that fighting machine that I love so much and that I need to be to compete at the top level, I feel like it's been put away for too long, and I don't know if I can get hold of him again and go one more time. I really don't think I could."
Froch, who twice won the WBC title in addition to the WBA and IBF belts, had flirted with the idea of a final Las Vegas showdown with Julio Cesar Chavez Jnr to bring the curtain down on his career. However, an elbow injury scuppered plans for a fight in March, prompting initial speculation of an imminent retirement.
© Copyright IBTimes 2023. All rights reserved.